By Beverly Pereira
Photography: Miguel de Guzman, Imagen Subliminal
Scalar Architecture employs parametric design to maximize the surrounding views, harness environmental factors and bring a multi-generational family together in a lake-side cottage…
The Scalar Architecture-designed lakeside cottage in New Hampshire is a paragon of the NYC-based design firm's philosophy of integrating architecture and the environment. Nestled in a peninsula on Ossipee Lake, the 3000-sq. ft. Anker-Jordan residence comprises two conjoined prisms that become the foundation for addressing a wide range of needs and desires expressed by the occupant family.
.
.
.
Surrounded by a lake, forests and the White Mountains range, the cottage is located on a unique but challenging site on which all orientations present distinct opportunities, including the passage of western summer and north-western winter winds. The presence of neighbours in the south and east warranted adequate shielding for privacy, while sweeping views in the north and sparse solar exposure in the south are addressed using parametrical climate analysis to optimize the nature of the orientations and the openings.
.
.
Principal architect Julio Salcedo and team uses the process of adaptive computational design to develop an elemental prism that not only maximizes the interior volume but also delivers a high passive environmental efficiency with minimum impact on the site.
.
.
A folded roof brings in natural light from the south, spectacular northern views and the summer westerly winds, besides managing the precipitation of rain and snow. A material palette of wood — maple wood flooring, light wooden frames, Chick lumber — dominates the space. An Everlast standing seam roof, high-density spray foam insulation and Kas-Kel windows find a place in this home.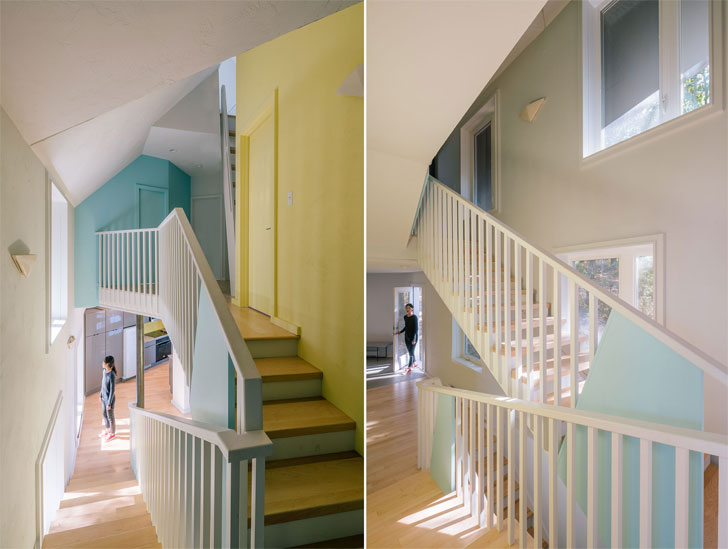 .

Adaptability for multi-generational living is another concern crucial to the occupants. To acknowledge the interdependent needs of all the generations, the cottage is designed such that different spaces maybe used even as they offer moments of isolation and play. While the young adults occupy the middle level in a discreet yet connected space, the grandparents find a homely, and accessible, dwelling on the ground floor.
.
The cottage's interior is made up of a series of interconnected cells that encourage social interaction between family members. A multi-generational dwelling programme takes shape in a fractal-like fashion that sees the second prism conjoined to the first prism and distinctly evolved to suit the needs of the occupants.
The axonometric design of the cottage thus gives shape to an elegant home that resolves the occupants' wide range of desires and concerns.
Client: Hans Anker and Lisa Jordan
Design Firm: Scalar Architecture
Principal Architect: Julio Salcedo
Team: Ben Prager, Cristina Marti Vilar, Fernando Cremades, Julia Castano, Laura
Hernandez Ramos, Lina Gao, Min Ji Kim, Murilo Machado Candido
Location: Ossipee Lake, New Hampshire