By Sonal Mamoowala
Photography: Gurkan Akay; courtesy the architects
Read Time: 2 mins
.
Mimari Studio helps world's leading chemical company BASF reposition from a vertical multi-storey typology to a horizontal architectural approach, spewing new-age thinking…
The universal principle of 'old must make way for new'… is well expressed by designers of the Mimari Studio as they reassert this with ample evidence through their design of BASF's 5500sq.m. multi-level office premises in Istanbul, Turkey.
Veering away from the old, introverted, conventional office space, the open-plan horizontal architecture aims at transforming work habits and work place culture to co-relate with its new interactive environment.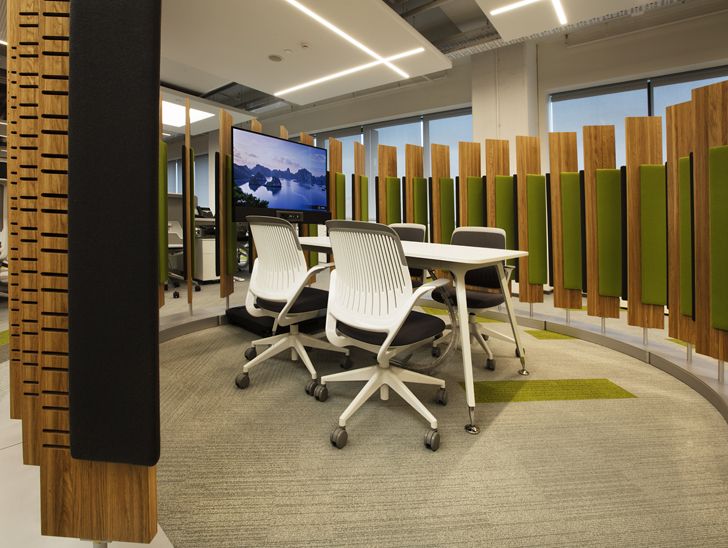 .
.
With a basic concept of different elements complementing each other in a holistic shell to promoting products manufactured by the company, the designers have worked in collaboration with experts from all disciplines like walls, ceiling, flooring, lighting, acoustics, landscape and graphics for the ultimate spatial experience.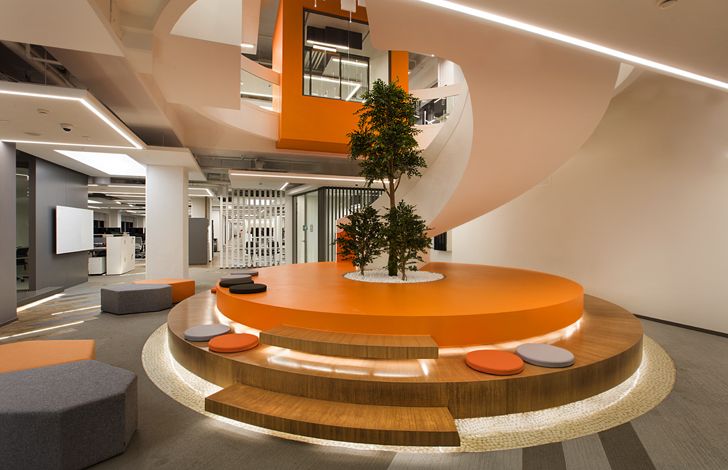 .
Dealing with the vast expanse of space spread over two levels, two core areas with their customized spiral staircases establish connection as well as constitute the highlights of the office, attracting instantaneous visitor attention. The bright coloured, uniquely illuminated concentric circles forming the platforms at the base of these stairs double as meeting areas and socialising hubs, completely doing away with monotony and promoting interaction… even within the circulation areas.
Geometrically shaped modular seats and meeting kiosks proximal to these stairs maintain the visual connect with the surrounding space. Devising an authentic, unique vocabulary of design elements as per their function is a natural outcome for customised innovative furniture. Meeting shells [office stops], rotating acoustic separation panels and seating modules [rom n jul] are some examples of new-age workplace design by Ayca Akkaya Kul,
the founding partner of Mimari Studio.
.
.
Meeting / training rooms are well appointed with unconventional, irregular shaped ergonomically comfortable tables and chairs/sofas. Transparent glass partitions allow segregation of the well-defined work spaces, viz. wooden /carpeted flooring… and ceiling pattern ...yet merging into spaces beyond for seamless spaciousness.
.
.
.
.
A sustainable energy-efficient lighting system is the governing element of the project. ceiling panels in different geometrics and elevations finished with PU Coating (in-house product) command attention for their irregular compositions; as contrasting yet homogenous, continuous lights reflect ceiling and flooring patterns; additional clusters of suspended LED light fittings appear like sculptural art installations as a colour palette of orange, blue, grey and white is judiciously used to reflect the corporate identity of the outfit. A seamless space with unending reflections in the combination of glass and lighting design, truly sets apart this office premises as an embodiment of new age thinking.