By Archit Raj Thapar
Photography: courtesy the architect
Read Time: 2 mins
.
Interior Architect, Eda Tahmaz of EDDA Architecture astutely plays with the drama of contrast to shape the identity of the newly merged entity of Hapag-Lloyd and UASC at Izmir, Turkey.
For Hapag-Lloyd, a company that transports cargo through waterways, EDDA Architecture has enabled the inhabitants of the 1,000 square metre head office to switch from enjoying the views of the Aegean Sea to focusing on the task at hand. This is achieved by creating a vibrant inward-looking environment that places a hierarchy of sorts to both – the formal and informal spaces.
.
.
For instance, informal spaces like the coffee bar and breakout spaces are placed at the edge of the building floor plan for unobstructed views of the sea, while the formal spaces and meeting rooms are more centrally placed. The open office style uses a blend of greys and vibrant orange, which are also the company brand colours to instil a corporate identity within the office. In addition, the company logo is etched on glass panels that act as partitions throughout the office space.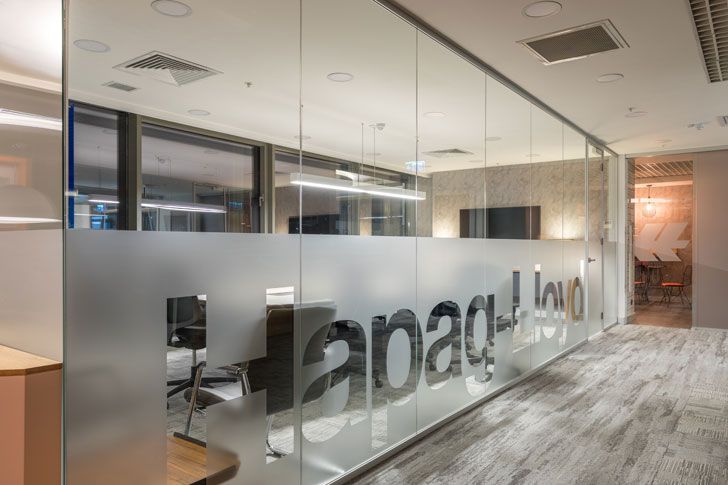 .
.
The material and finishes also add to the element of contrast. The metal grid hollow ceiling and textured grey carpet tiles on the floor harmonise the entire office; as all the informal spaces break away giving rise to pockets of interest. The coffee bar has the signature orange colour flooring, which mirrors the ceiling; whereas the reception and sit out spaces have ceramic grey tiles on the floor with a solid off-white gypsum ceiling. This facilitates a visual, physical and psychological transition – effectively acting out the pragmatics of spatial planning.
.
.
The induction of the circular form as a signifier for dynamism is heavily played upon in all the informal spaces - from the recessed ceiling at the reception to the layout of teal and grey sofas in the breakout spaces. Interestingly, orange is also used very subtly, as a highlighter in some of the formal spaces – a fact that stands out for this project: be it the column capitals, a bowl of candy in the executive lounge or the pin up boards in the meeting rooms. The other colour treatment, with pops of colour breathing in a dash of fresh air also adds to the balance, making the office a serene energy-driven, but aesthetically pleasing workplace.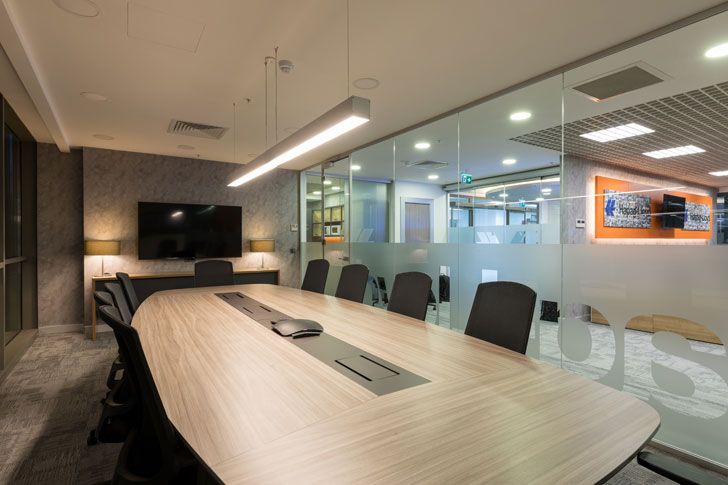 .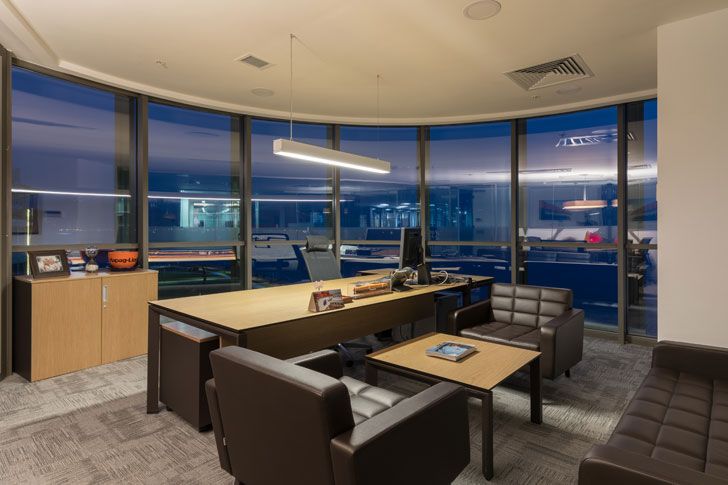 .
Client: Hapag-Llyod- Globel Container Liner Shipping
Interior Architecture Concept and Application: EDDA Architecture, Eda Tahmaz
Project Team: Eda Tahmaz, Selim Sağlık, Tuğçe Tunç
Location: Alsancak, IZMIR, Turkey