By Beverly Pereira
Photography: Alt Kat; courtesy mimaristudio
mimaristudio designs the VW Arena Turkcell Platinum Lounge, an inviting space with a strong sense of brand identity for the telecom operator's guests in Istanbul.
The Turkcell Platinum Lounge is located in the Volkswagen Arena, an indoor venue of the UNIQ Istanbul complex that hosts concerts, fashion shows, award ceremonies, basketball games, and performing arts shows — live events, where Turkcell likely enjoys ample brand visibility. In the lounge, too, the local telecom giant commands a strong yet tasteful presence achieved through clever lighting and the enhancement of the existing architectural character.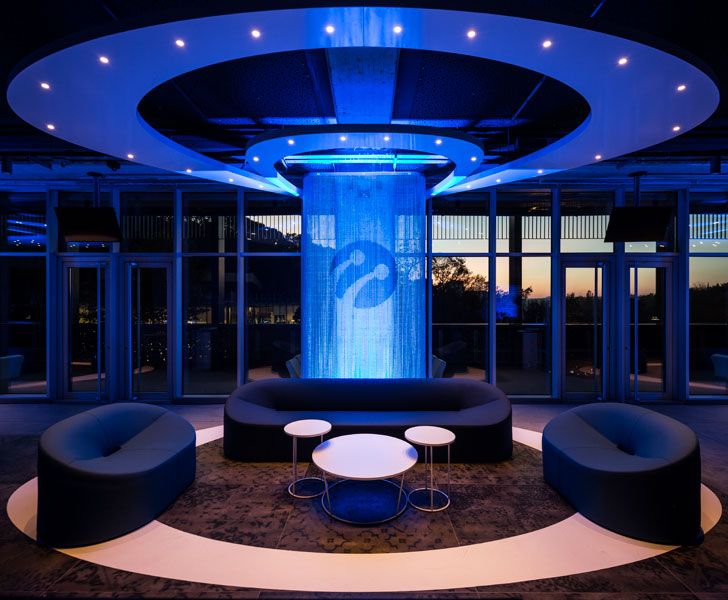 .
Designed by mimaristudio, the interiors of the Lounge render the space into a dynamic entertainment and hosting venue for Turkcell's guests. The 575 sq. m. lounge is a mere elevator ride away from a private entrance and security points in VW Arena. While the longer side of the lounge opens up to tribunes, the other breaks out into terraces.
.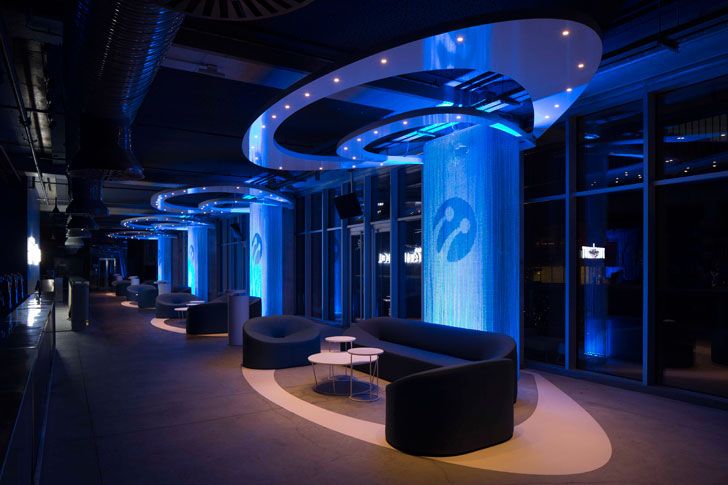 .
Without tampering with the structural character, the designers render the space into a comfortable, inviting zone with seating and standing options for guests. The studio utilises the long rectangular geometry of the space to harness a repetitive set of columns as individual hosting posts.
.
.
Aluminium chain curtains court each column and simultaneously express Turkcell's corporate logo, transforming
each such hosting post into a functional meeting space.
Each hosting post is also marked with rondure ceiling plates that concurrently find form as a floor pattern.
.
The lighting, executed by Light 2 Design and Crealux, plays the lead role in shaping the identity of the lounge as a place to unwind. Using a night mode, an apt choice of luminaires, and luminous blue hues and playing with various permutations and combinations of illuminance and hue values induces a luxuriating atmosphere. An automated light control system transforms the space as per the usage requirement.
Brand visibility is yet again communicated through light-induced logos as well as graphic designs of Turkcell's mottos applied with foil and executed by Futur-ist.
Client: Turkcell Communication Services
Interior design: mimaristudio
Designers: Ayça AKKAYA KUL, Önder KUL
Design team: Tolga BOZOK, Kaan GÜLKIRAN
Location: Volkswagen Arena, Uniq Istanbul – İSTANBUL