By Vinita Wagh
Photography: BIRKA; courtesy v2com
Read Time: 2 mins
Chanel's brand-new Buenos Aires boutique flaunts Claudio Kaczka's brilliance in crafting luxury retail spaces with elements that inspire and enthral.
Kaczka and BIRKA's architectural journey within this industry spans over 600 projects, leading to collaborations with celebrated brands. His designs for lavish boutique stores and high-end airport malls reveal a strong focus on details, trends, exclusivity and the brand itself, compelling a shopper to experience and appreciate the luxury of the space.
Located in a historic building declared as a national monument, the Chanel boutique is witness to Kaczha's ability to flawlessly integrate tradition and modernism within the design – to create a sophisticated space that embodies the prestige and identity of the brand. The boutique comprises two primary areas – while one features make-up, skin treatments and exclusive fragrances for men and women, the other recreates the feel of a boudoir or salon to present only the most exclusive collections, allowing a more private shopping experience. A classic palette of black and white, coupled with accents of gold and grey, enhance the space.
With elements and furnishings being tailor-made by BIRKA, the space formed a clean canvas for Kaczha to develop his ideas that blend together luxury and architecture. Handmade by Danish artisans, the fabrics that cover the walls, doors and lamps also include Chanel's hallmark tweed and genre.
Artist Piet Mondrian's compositions inspire a wall full of colour, skin treatments and fragrances, while an oud bar exudes the classic French elegance of the brand. Multiple coats of lustre lend gloss to the black furnishings, while the special bidirectional stainless-steel back-coating of the crystal mirrors renders them of the highest quality. The special LED panels that illuminate to 5500 Kelvin lend perfect light to the setting to emphasize warmth and glamour and add drama to the space.
Chanel- Mexico
Chanel- Lima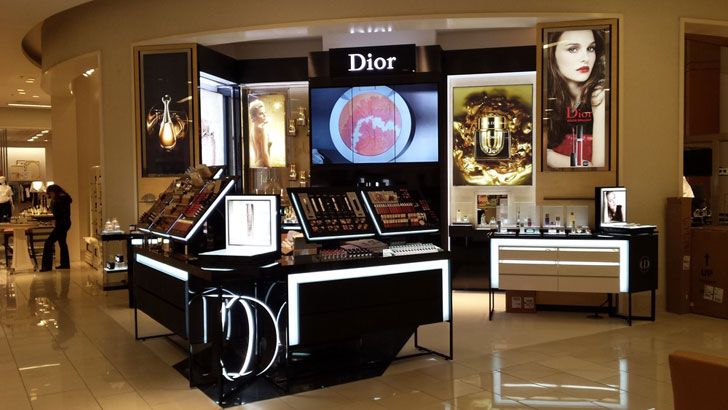 Christian-Dior-Virginia
Kaczha
believes that the overwhelming success of a space lies in its elements, where each piece is designed and tested to perfect a setting; where nothing is left to chance.