By Vinita Wagh
Photography: Courtesy LUKSTUDIO
Read Time: 2 mins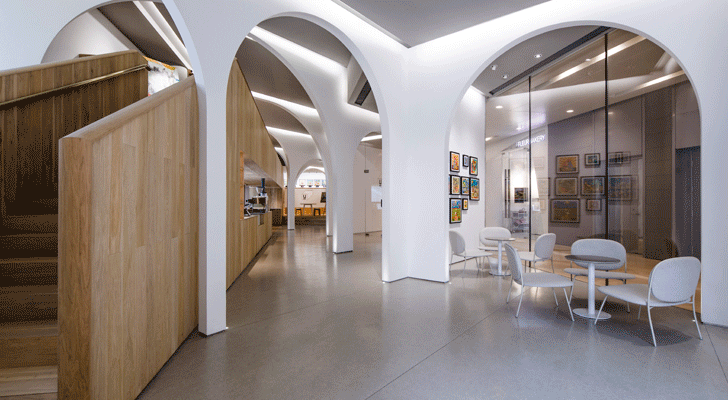 .
LUKSTUDIO delivers an arresting spatial experience through their U Concept Gallery amidst the energetic, socio-cultural West Bund
neighbourhood
in Shanghai...
Nestled inside the Sunny Walk shopping compound, the gallery converges the cultural, educational and commercial programs under one roof – a semi-public retail experience that unfolds along the elongated space. Designed to be simplistic and engaging, the gallery allows users to mingle and explore as they move through the folds that compose the space.
.
.
.
.
Sandwiched between the atrium and a narrow public corridor, this layered arcade comprises a trail of white walls with arched openings that create lingering points along every turn, breaking the monotony of the longitudinal space. Crafting inward and outward spaces between the two entrances, the storefront opens and closes alternately, guiding views and movements on the open floor. The fold extends to blur the line between the public corridor and the gallery, subtly nudging people inside. The minimal form furnishes vertical display surfaces and subtly-separated zones for flexibility while creating an expressive storefront.
.
.
.
.
.
Across space, a wooden volume interlaces through the arches to declutter the floor and organize other essential programs. It rises beautifully to form the elevated platform/mezzanine and tucks the café counter within. An open classroom platform sits at one end of the arches. Raised display aisles, featuring as many as 20 different artists, wrap around the balustrade that runs around this workspace. The balustrade acts as the perfect viewing gallery for activities in this classroom and leads to the raised platform – the attic, that offers a more private experience with the view of the gallery below.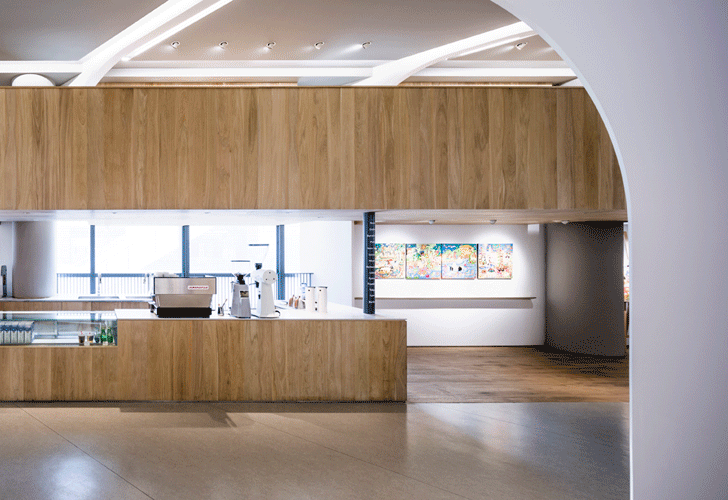 .
Using a modest material palette of porcelanosa, wood flooring, matching veneer panels, dajulong PVC flooring, white latex paint and copper, LUKSTUDIO perfects the visual contrast to shape a tasteful space that encourages and inspires and lets the art do all the talking.