IAnD Exclusive
Pre-Diwali Special 2018: Ideas you can use
Compiled by Team IAnD
Photography: Alex Jeffries; courtesy v2com
Read Time: 2 mins
.
Askdeco adds warmth and colour to the industrial footprint of a residence in Beirut, demonstrating how human nature reacts to eclectic warmth – a sentiment that is universal and timeless!
With breath-taking vistas overlooking the Mediterranean Sea, ancient Roman ruins on one side, and the vibrancy of downtown Beirut's colourful streets on the other, this 700 sq. m modern family duplex owned by a young couple with a baby is dotted with a warmth born out of an industrial chic décor.
.
.
Nisrine Nasr, co-founder and interior designer at Askdeco collaboratively evolves the idea of the client's initial vision for an industrial-styled home into a more refined and liveable space by accomplishing a harmonious balance between the muted and monotone colour palettes of hard architecture with random bursts of vibrant colour.
.
.
Earth colours, concrete textured walls, gunmetal finishes, Mediterranean grey marble flooring and brown wood bring the industrial design elements into play, while wood and metal infuse a cosier design into its core. Carefully selected works of art, eclectic furniture and furnishings, and unique accessories craft out a chic style statement.
.
.
Divided into two very distinct atmospheres, the public upper level is designed for fun and relaxation, reflecting the client's lifestyle, with a reception area capable of hosting gatherings away from the bedroom areas. It features a cigar lounge, a bar and an activity room, with the latter featuring a high-end billiards and contemporary football table.
.
Connecting the two levels, a magnificent cage-like spiral staircase serves as a transition, descending to a decidedly more intimate spaces featuring bedrooms, a contemporary kitchen and a family living room featuring comforts such as a sofa and daybed. The space's lower level also features a main bathroom that is far from ordinary, with a glass bathtub and free-standing bathtub mixer that serves as the centrepiece of an ambiance designed for total relaxation.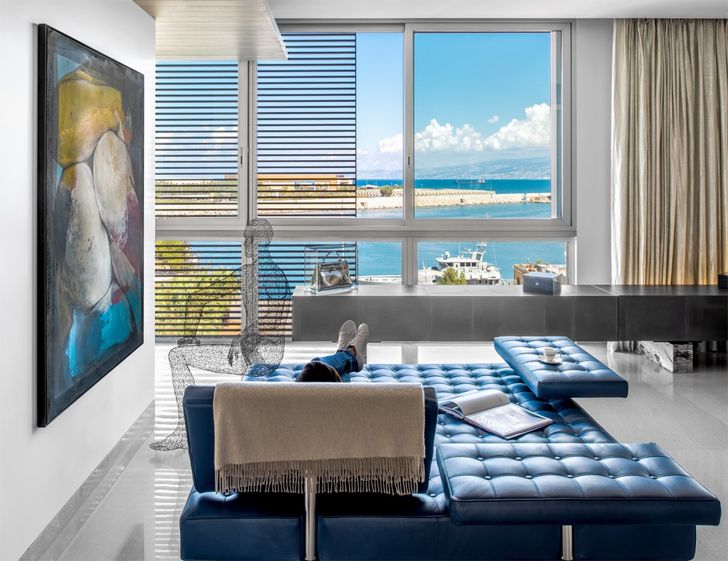 .
.
.
"Well-designed spaces function effortlessly and enhance the quality of life of those who occupy them," explains Nasr. A dictum that our ongoing special echoes!