Compiled by Team IAnD
Photography: Ewout Huibers, Chris van Koeverden; courtesy v2com
Read Time: 2 mins.
.
The recently-opened Princess Máxima Centre in Netherlands by MMEK architects uses the reverse design approach to chisel the single-most state-of-the-art centre for healthcare, research and training related to children with cancer…
Every year 600 children aged anywhere up to 18 are diagnosed with cancer in Utrecht, Netherlands. Fortunately, the treatment options are getting better all the time and more than 75% of patients can now expect to be cured. Nevertheless, increasing the cure ratio and minimising side effects is a goal that the centre aspires for by 2020, on its way to becoming one of the world's top five paediatric oncology research institutes in the world.
The entrance lobby
A single philosophy - development-centred healthcare – guides all aspects of the new centre. A significant fact under consideration is that despite their illness, young patients are still growing, and it is important to encourage their cognitive, socio-emotional and motor development. To ensure that the highest standards are fulfilled, the hospital's organisation, interior layout, and facilities are designed from inputs of all stakeholders including architects, patients, parents, interest groups, healthcare professionals and building management.
Science and Discovery room
Science and Discovery room -
incentives to learn can distract their attention from their illness and improve their quality of life.
Science and Discovery room - treatment room
The brand identity of the Princess Máxima Centre is expressed in all elements of the interior. Its rooms, furniture, and toys form part of an integral design. The interior is styled in a uniform manner, recognisable throughout the building, making it conducive for patients and their parents, where everyday family life can continue as much as possible.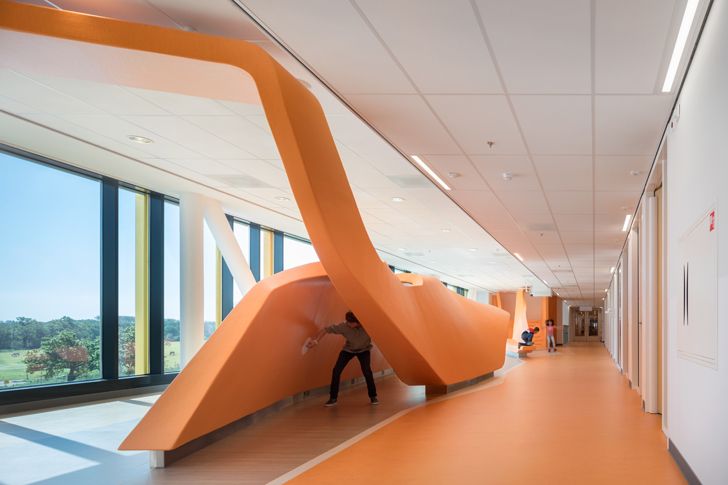 Park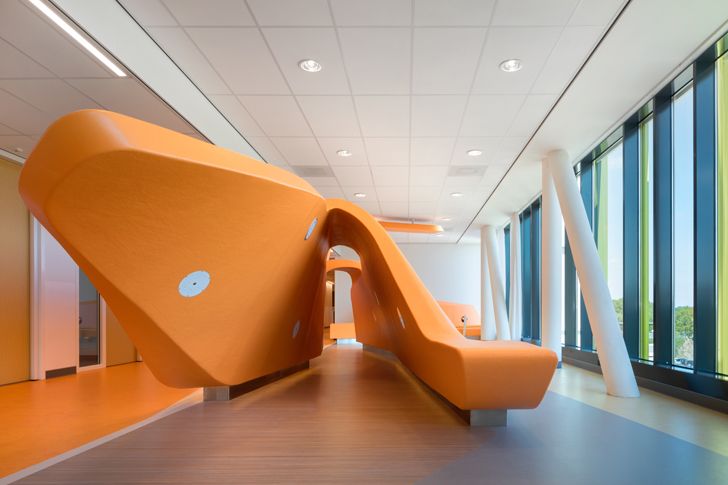 Park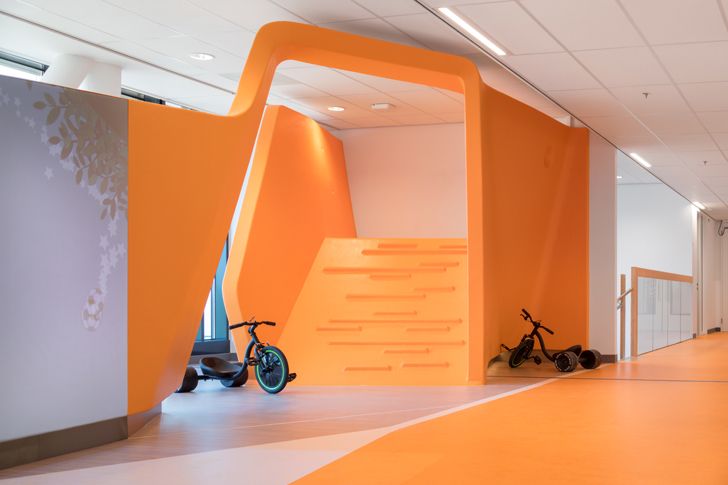 Another unique space is the Park. The most striking element is the impressive furniture, which meanders like a landscape through space and in which there is plenty to discover.
Park
contains play elements and relaxation corners that stimulate patients to move around or spend time with their relatives. Patients with less physical strength are also stimulated to take more exercise here
Given MMEK' reputation to design unforgettable spaces that combine digital, physical and spatial elements into unique experiences especially spaces for healthcare, museums, and brand experience centres, its architects, interior designers, industrial designers, and multimedia developers have spent a great deal of time working together on the design. Their reverse design approach (where the needs and wishes of the users are prioritised compared to the architectural construction) creates a holistic interior.
The quiet room - the gradually changing light wall creates a balanced dynamic in the space so that people can unwind.
.
Consequently, the Science Discovery Centre, the Building site and the Park, all form part of a seamless concept and result is a strong, harmonious human-centred design.