By Archit Raj Thapar
Photography: Courtesy Saranin Artemy
Allartsdesign remodels a six-decade-old café into a coming-of-age eatery, enhancing it functionally, synching it contextually and keeping it trending for the youth…
Located in the European part of Russia, surrounded by the Ural Mountains in the city of Perm is one of the 100-plus café franchise of 'Rolls Circus'. Designer Saranin Artemy from Allartsdesign lives up to the client's brief of transforming the place into a youth-savvy café whilst increasing its seating capacity by maintaining its industrial-grunge vibe; thus, correlating it with the historical backdrop of its existence.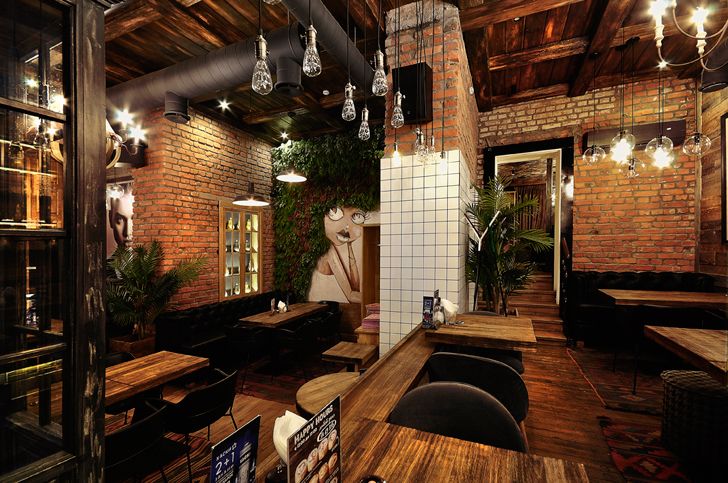 .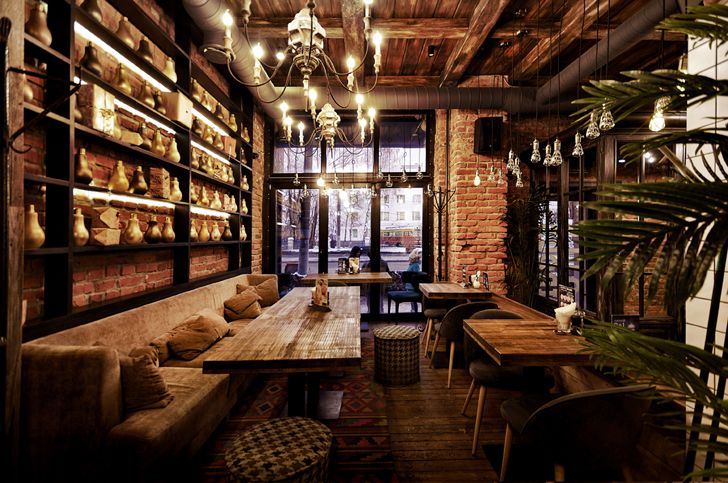 .
.
The 1130 sq. ft. café largely comprises two halls with a height difference of just one metre that is resourcefully mitigated by designing two podium levels. The choice of material and the colour palette sings the tone of an industrial setting, admirably paying homage to the heritage of this old building. With plaster chipped off from the walls to expose the magnificence of the bricks underneath, the grunge look is complemented by the rawness of wooden furniture and exposed light bulbs.
.
.
.
The designer introduces nuances of sleekness in this pulsating, raw envelope as he wraps the bar counter with square white ceramic tiles underlit from the counter-top or with rugs underfoot on the floorboard planks. Add to this, his inclusions of green planters, wooden panelling and larger-than-life wall art. Stained-glass windows add a touch of flamboyance and can be enjoyed throughout the year; as the interiors are equipped to handle both, the warm summers and the harsh winters of the region.
This refurbishment brings alive the youthful spirit of the area as the cosy, den-like ambience is up-to-the-minute with its service and international menu.
Design Firm: Allartsdesign
Principal Designer/Architect: Saranin Artemy
Area: 1130 sq. ft. / 105 sq. m.
Location: Perm, Ural, Russia Federation