By Vinita Wagh
Illustrations/renders: Courtesy UNStudio
Read Time: 2 mins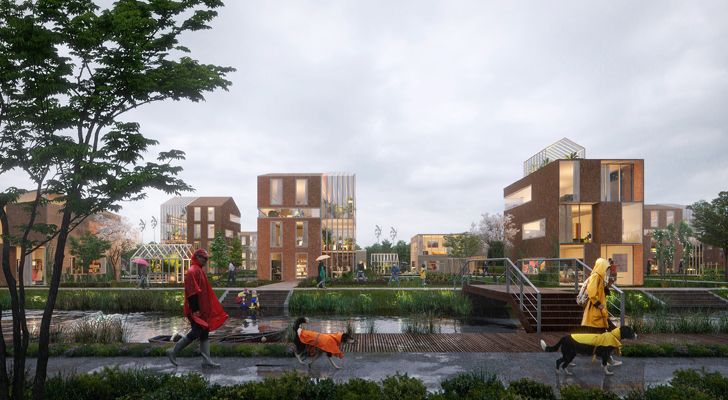 .
UNStudio blueprints the world's 'Smartest Neighbourhood' in Helmond's Brandevoort District in the Netherlands - a prototypical initiative that epitomises adaptable planning and future living.
This urban vision brings together UNStudio, Felixx Landscape Architects and Planners, Metabolic, Habidatum and UNSense, lending insights and expertise in areas of circularity, participation of (future) inhabitants, social cohesion and safety, health, data, new transport technologies and independent energy systems. Their synergies will see the next ten years create a sustainable spatial environment of 1500 new homes and 12 hectares of business premises across 155 hectares of land.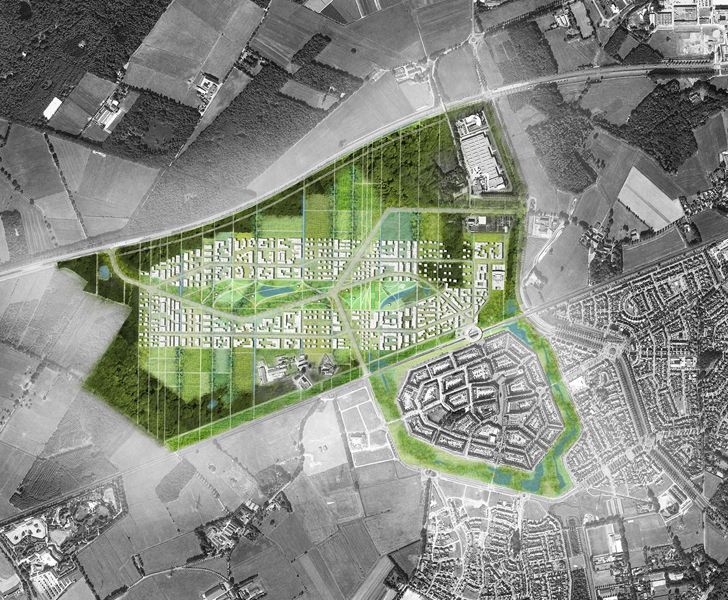 Aerial view of master plan
Master plan
Master plan concept schemes
While the existing landscape encompasses forests, moors, villages and wetland areas, they function independently. However, they have the potential to be composed onto one single canvas – an integrated, collaborative and hybrid habitat that harnesses each strength.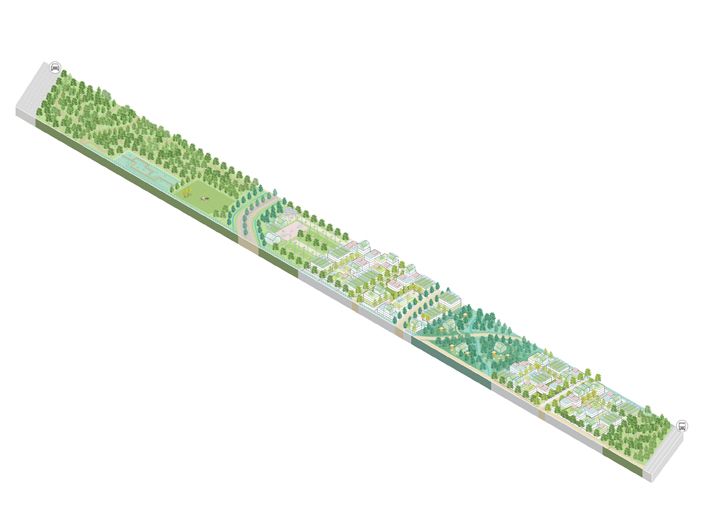 Axonometric of high density strip
Axonometric of low density strip
Axonometric of urban structures
Axonometric of urban structures - living
Felixx proposes four spatial frameworks to compose them together – First, the 'Mosaic Landscape' that characterises the existing site and its potentials. Second, the 'Productive Landscape' that defines parcels of land and their role in the comprehensive system. Next, the 'Social Landscape' that fosters new partnerships and social networks within BSD. Lastly, the 'Connected Landscape' that structures the plots to act as ecological sites that also integrate recreational and temporal uses.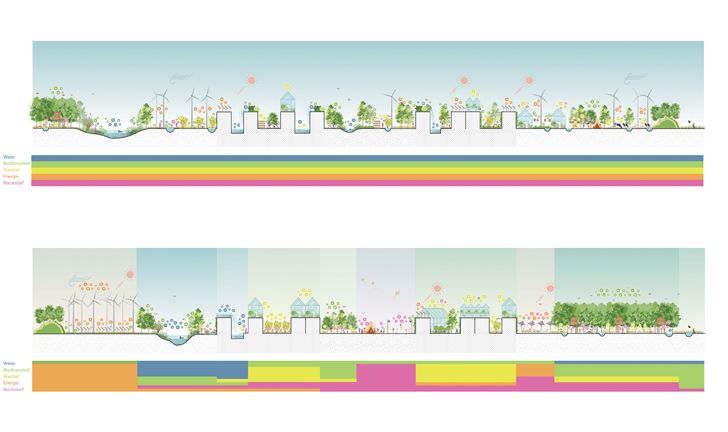 Illustrative sections
Urban vision - technology
As such, the Brainport Smart District builds a symbiotic relationship between buildings and the landscape, a new productive ecosphere for food, energy, water, waste processing and biodiversity. At the heart is the central park around which is the mixed residential neighbourhood, surrounded by business spaces and natural reserves. Designed as a living lab, the development of BSD supports experimentation and 'learning by doing'. The design and construction are simultaneous, aiming for the creation of a sustainable living concept.
.
This flexible framework offers opportunity for growth and incremental density. Parcelled strip wise into 10 parts, the site acknowledges future economic and social flux, creating a diversity of living, working and leisure activities, to generate a local economy. Residents and businesses contribute to encourage communal resource schemes and innovative research. On the housing front, UNSense implements a data-driven approach on a test environment of 100 houses that researches the role of data in improving lives – an approach that can lead to alternate economic models that include cost savings for digital amenities.
In one bold move, the framework aims to find the right balance between pioneering solutions of different scales to establish ecological, social and economic feasibility, improve the efficacy of spaces and grant seamless connectivity.