IAnD Exclusive
By Vinita Wagh
Photography: Dirk Weiblen; courtesy the architect
Read Time: 2 mins
Nyx Shanghai (inset) Ar. Alberto Caiola
Prepare to be amazed by Alberto Caiola's latest project, Nyx, as it marks Shanghai's skyline with a spot of electric blue.
True to the name's Greek origin representing the goddess of the night, this rooftop bar unequivocally celebrates the dark. Its presence is energetic, almost psychedelic, inviting one to immerse himself in its futuristic ambience, presenting a captivating experience that also frames the city's best views. Against this striking urban canvas, Nyx embodies everything that is surreal and glowing in this city of light that extravagantly comes alive at night.
Underneath the luminous glamour, Nyx draws a portrait of what Shanghai aspires to be – dense, close-knit yet spacious and open. Inspired by classical architectural ruins from across Europe and the Middle East, the project reinterprets the massive scale of the grand complexes – the arches and columns evoking intimacy and their expanse creating interaction spaces.
.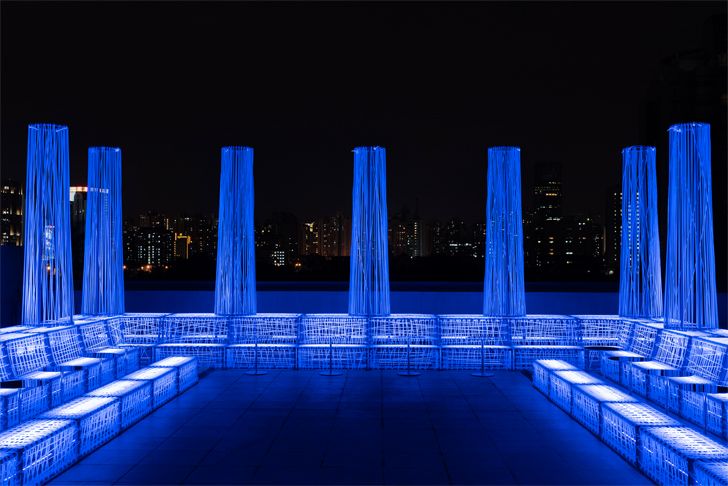 .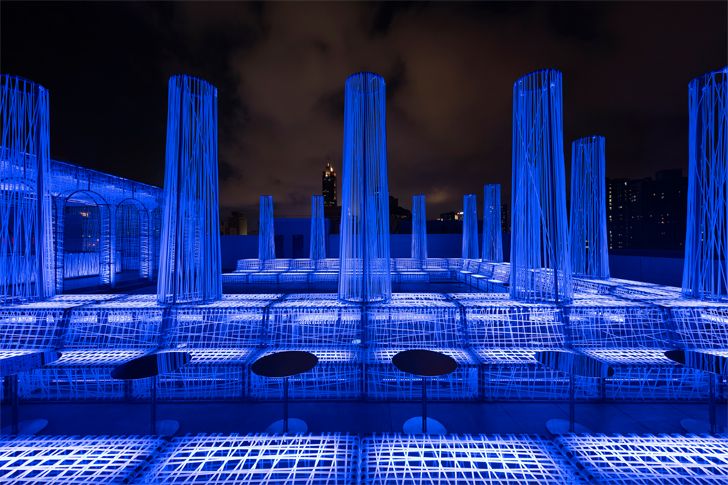 .
.
Portraying the architecture of light, the project mirrors instances of a distant past and an abstract future into one single hand-drawn illustration that translates to form a visually stimulating scene. This fresh take on the ancient colonnade is a conflux of its physical form and social function; and precisely what makes this reinterpretation perfectly relevant for a bar destination.
.
.
.
More than 21,000 metres of UV reactive cord wraps the structure's frame, with black lights emitting a steady, luminous blue glow. These cords recall the omnipresent tangle of cables visible on buildings throughout the city. Interspersed behind the bar are periodic dashes of red. Highlighting the bar's 20 craft beer collection, the red lines stand out and acknowledge the venue's primary product. Dramatic arches between bar and the open-to-air space play up the visual separation and explicitly outline the venue's focal point.
.
.
.
Engaging with its contemporary context, Nyx references the banalities of culture and identities, keeping with Shanghai's past, present and future – an installation, through its space-time experience that sets the stage for a new 'phygital' aesthetic, one that expresses an alternate, neoteric viewpoint to the city's existing frenzy.