Compiled by Ar. Shreya Kulkarmi
Photography: Filippo Bamberghi; courtesy the architect
Read Time: 2 mins 30 secs
.
Studio Arthur Casas in collaboration with SysHaus, a start-up for research in the residential field, designs a new concept for sustainable contemporary living in a '200 sq. m. prefabricated dwelling'…
The program of this prefabricated home comprises an elongated space that can be anchored anywhere - as easily on a flat as on a sloped terrain. Segmented into living, dining, and kitchen areas sandwiched between a master suite with a toilet to one side, and an open porch with a fireplace anchored to the other side, the eco-friendly modules are structurally composed of pillars and beams of the same section, connected by a metallic cube that works as a structural node.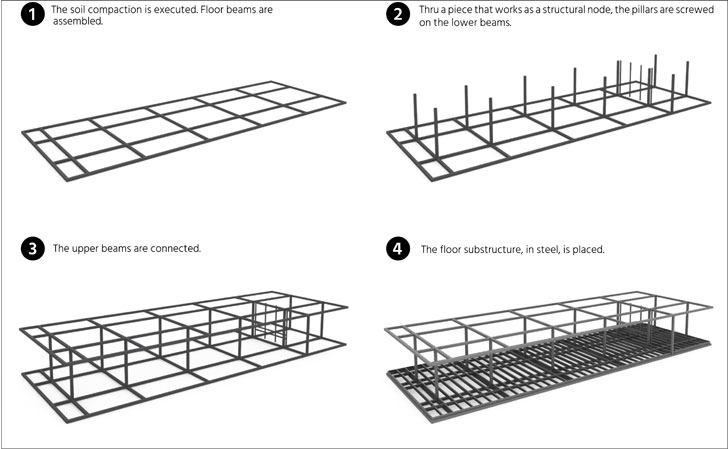 Set-up
Set-up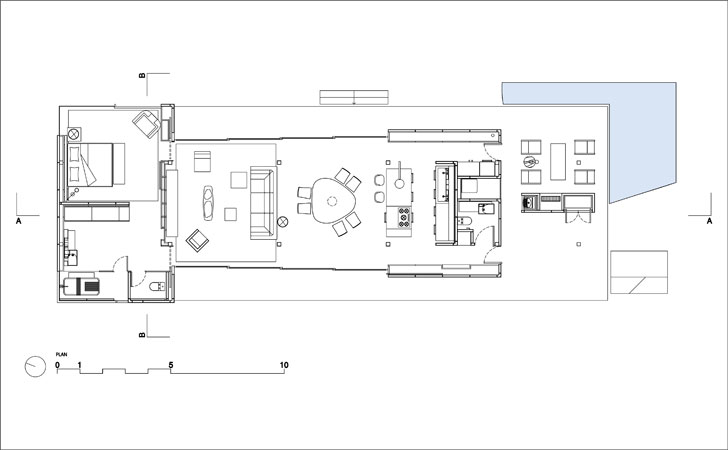 Plan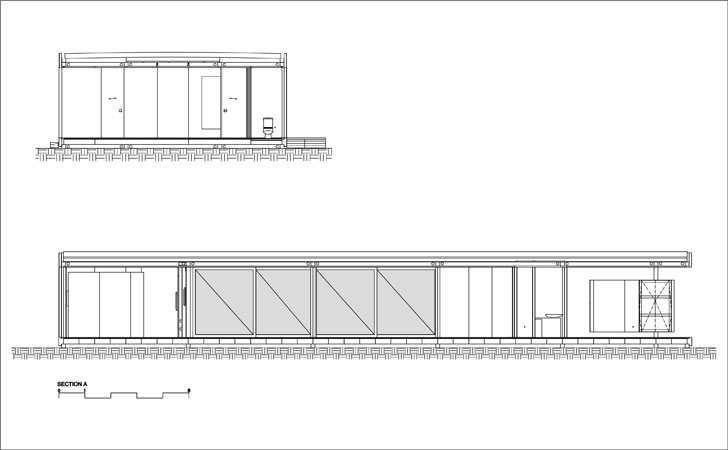 Section
When combined, the modules result in different configurations of layouts and attend several programs within a limit of up to three floors, both, on flat as well as sloped terrain. Terminating into a terrace garden, the plan involves a seamless indoor-outdoor interaction set amidst a dramatic landscape designed with species adaptable to the climate of any region allowing optimum natural lighting and cross ventilation. The use of subtle tones for the minimalistic furniture and furnishings, totally customised by the architects makes the home a part of its calm natural surroundings.
.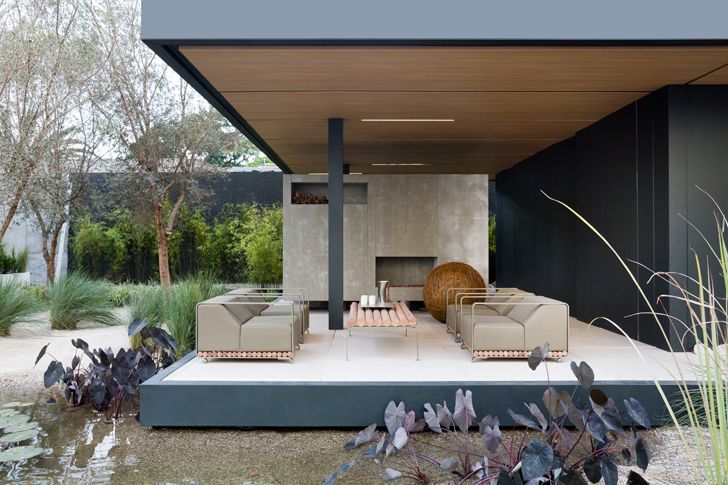 .
.
.
.
The interiors adopt a freestanding concept where cabinets and kitchen, usually fixed in walls or partitions, arrive at the house in independent modules allowing flexibility on finishing, coatings and layouts, as per the client's preference. The 100% recyclable external and internal components and finishing materials, such as floors, walls and linings can be assembled and disassembled - providing sustainable solutions.
.
.
.
.
.
This "eco-systemic" house is delivered with mechanisms of rainwater capture and reuse, solar energy through photovoltaic panels and bio-digestor that transforms organic waste into gas for the kitchen and fireplace. A choice to opt for a green roof improves thermo-acoustic performance and promotes a passive environment. High-energy efficient, it avoids the "negative surprises" typical in conventional projects. Further, the use of intelligent materials and an industrialised process allow durability above standards. What's more, the house allows a constant process of updating and evolution.
The success of this project lies in the plasticity of its design to adapt to the advancing technologies and needs of the society and as the architect states "The world is concerned today with world preservation. Our work has to be really sustainable, not just in speech."
Design: Arthur Casas Design
Constructive System: Syshaus
Location São Paulo, Brazil