By Ar. Shreya Kulkarni
Photography: Andriy Avdeenko; courtesy the architects
Read Time: 2 mins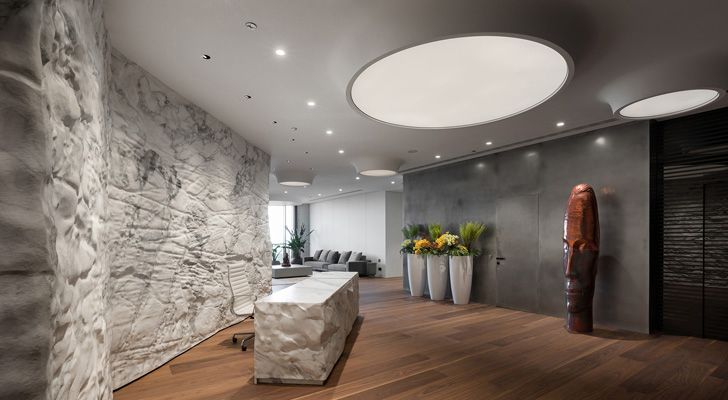 .
Sergey Makhno Architects chisel a black and white, curvilinear theme for this new-age office, highlighting metallic materiality as the symbol of a new mindset…
Nestled on the 19th floor in the IQ business centre of Kyiv is this office space, the interiors of which are sculpted by Sergey Makhno Architects. Akin to a dynamic oasis amid the city skyline, the office is highlighted by its metallic accents that instantly establish it as a new generation company, where minute detail creates a right balance reinstating 'less is more.'
.
A distinct dialogue is established within the functionally segregated spaces, unified further through spatial continuity that assists in conceiving the parts as a whole.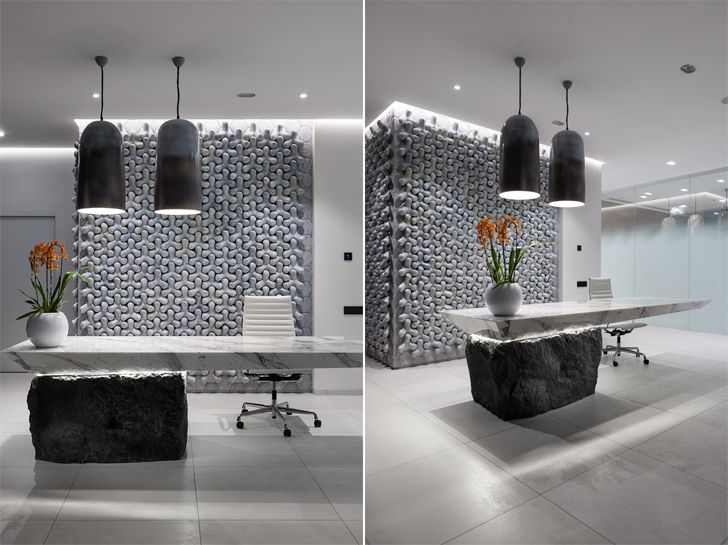 .
The backdrop and the counters for each of the three receptions form a new locus echoing the rhythm of a harmonious union. The VIP reception is framed against an undulated natural stone relief, carved out of thick stone slabs that merge at different angles accompanied by a similar looking table, visually segmented by a light fixture. The naturally lit waiting lounge adjoining this reception is defined by a chestnut-wood panelled wall in a subtle contrast with bold grey furniture.
The lighting craters carved into the ceiling establish continuity along the common areas setting off a dramatic mood to the decor. The highlight of another reception is a tetrapod-designer tile composed to create a hybrid of reduction and projection, thus animating an idle space; ably complemented by an equally arresting art-table.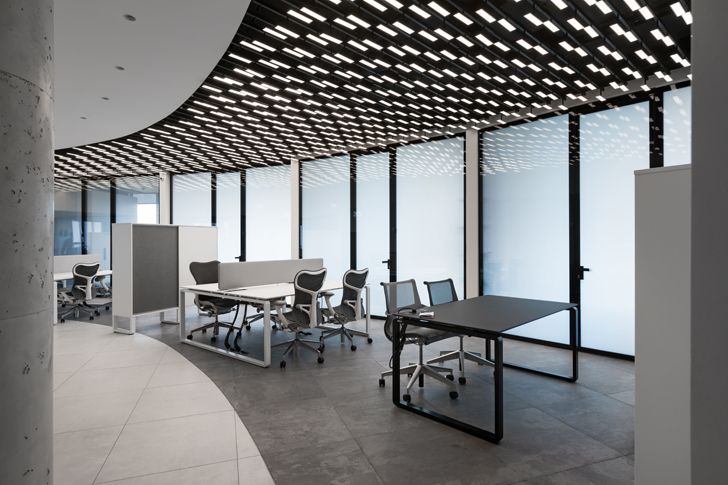 .
.
.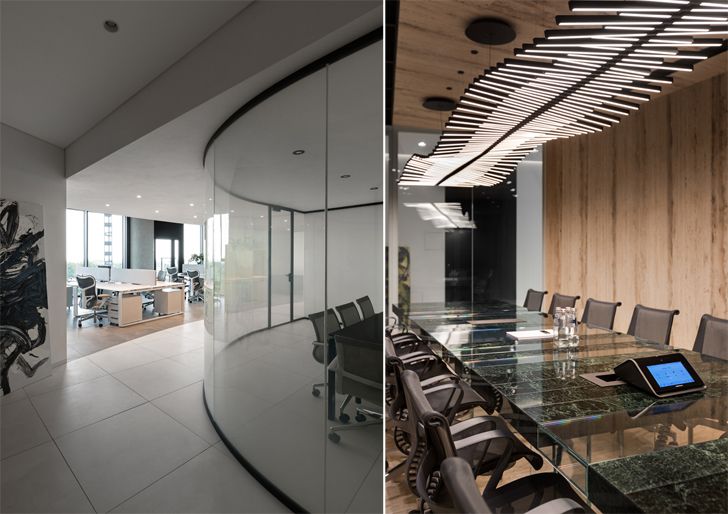 .
The CEO's cabin is visually divided into three zones: working, meeting, and leisure, accentuated with light colours and customised minimalistic design solutions. A feature that stands out in the deputy CEO'S lounge is a wall with wooden panels stitched together imitating a typical embroidery observed on Ukrainian towels. Both the cabins have a controlled influx of natural light through the panoramic windows, which also informs the interior-exterior connect.
.
An array of recessed seating overlooking an open terrace forms an ideal place to relax, reflect and open up to some outdoor space. The toilets here are experimental extensions with relief mirror panels and 'a swarm of sea wave' ceilings reflecting light and filling the stalls with an inimitable glow.
The open planning, practical furniture and the use of a timeless material palette viz. glass, marble, metal, wood, copper, etc. adds a sense of fineness to the whole assembly via a fresh, contemporary design vocabulary – oozing warmth and oomph in the same breath.
Architect Firm: Sergey Makhno Architects
Designers: Sergey Makhno, Illia Tovstonog, Pavlo Fisenko
Location: IQ Business Centre, Kyiv