Compiled by Team IAnD
Photography: Courtesy cepezed
Read Time: 2 mins 30 secs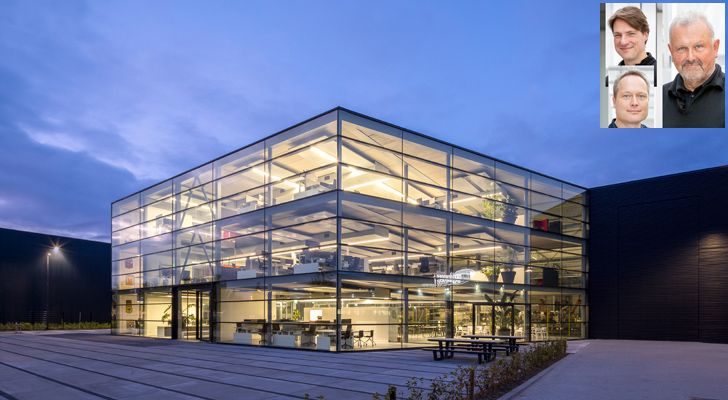 Lan Handling Technologies Building (inset) l-r: Architects Paddy Sieuwerts, Ronald Schleurholts and Jan Pesman | photo by Lucas van der Wee
With the Lan Handling Technologies Building, studio cepezed orchestrates the holistic responsibility of architecture and design, on both – the construction and the social ecosystem fronts…
Advising, planning and executing every detail of the architecture and design of the company's new future-ready location at Berkel-Enschot, Netherlands, studio cepezed plans an open and efficient workspace that sports a transparent character. A transparency that facilitates short lines of communication: direct communication between customers and employees, and more direct contact between the designers in the office and the engineers on the assembly floor. The latter also functions as a showroom for Lan's expertise.
The premises include 1,500 sq. m. of office space and 5,000 sq. m. of halls. The design is importantly determined by the plot, which roughly has the shape of a rectangular triangle. The building itself is composed of five connected naves - each more than 10 metres high and 18 metres deep. In length, they run back from around 88 to 24 metres. As a result, the building has a saw-tooth structure along the slanting plot side.
The shortest building nave is situated along the access road of the business park and contains the offices. On two sides, this three-layer volume is equipped with fully glazed façades. The halls consist of the other four naves and each contains a production street. The differences in length renders the halls and production streets well suited for working on orders of different sizes. The façades of the halls are largely closed, but still receive ample daylight through the office nave and partly transparent façade strips.
The façade finishing of black profiled sheets is sleek and modest, but with sophisticated detailing. The facility zone along the long side of the building has a black wall finish and thus reflects the dark exterior façade. The high, industrial overhead doors are elegantly concealed behind the cladding - a cool corporate appearance that suits Lan well.
.
.
.
.
.
The interior is kept austere and basic with a refined, but cool and robust appearance. The offices follow an open plan and the glazed facades allow plenty of daylight to filter in. The office floors are of polished concrete and the furniture is white, which contributes to the light atmosphere. Transparent red partition walls between the office floors and the facility zone form a powerful colour accent that matches the colour of the Lan logo. A sprinkler system does away with the need for fire compartments, which makes sure that the building can be as open as possible.
.
.
The modest design, sleek styling and striking façade signing also tie in with those of the other companies within the listed Hydratec, Lan's mother company. On a corporate level, the new construction thus contributes to a recognisable branding as well.
Fact File: Client: Lan Handling Technologies
Architect: architectenbureau cepezed, Delft
Interior design: cepezedinterieur, Delft
Project Duration: January 2017 – May 2019
Location: Berkel-Enschot, Netherlands