By Ar. Vinita Wagh
Drawings & Visualisations: courtesy V2com
Read Time: 3 mins
fog water spa and climate-smart irrigation plant (inset) Ar. Margot Krasojevic
In Eastern Nepal's Ilam District, Margot Krasojević Architects designs a climate-smart water irrigation plant that harnesses the fog in a bid to conserve the natural environment, a system modelled on ancient traditions…
Margot Krasojević Architects once again thinks beyond the conventional to design at the threshold of cross-disciplinary architectural strategies that embrace sustainability and technology.
This project – an outdoor spa and wellness platform and water irrigation plant, all in one leverages Nepal's subtropical latitude, high humidity and altitude-varying climate that aids fog formation to realise the design, program, spatial planning and architecture of the structure. However, the project's challenge lay in determining an ideal location that provided optimal local and global weather conditions for a better harvest.
cantilevered fog water spa pool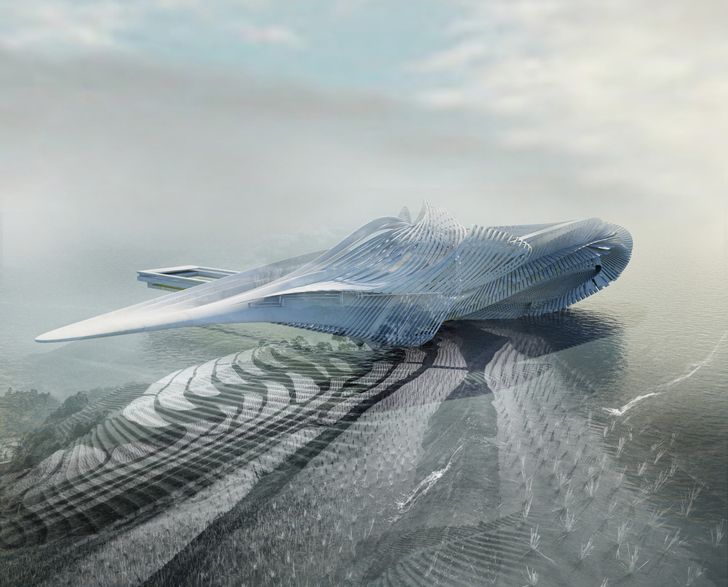 fog water spa terraced into landscape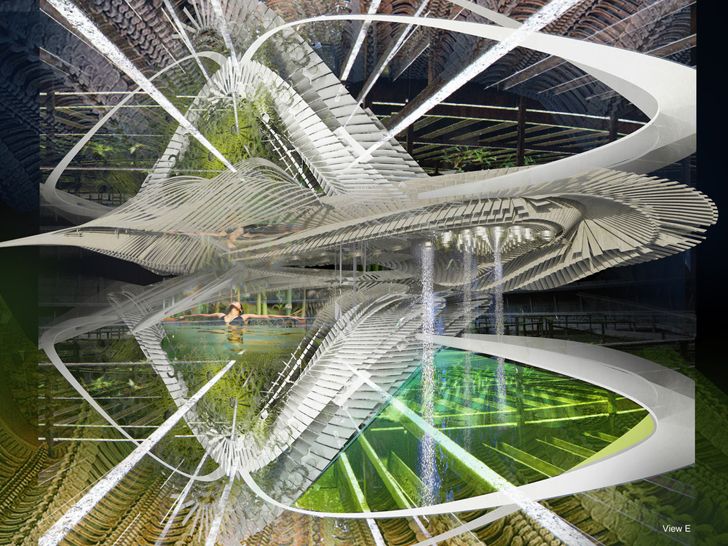 interior view of fog spa pressure pool chamber
view of fog water spa pool
isolated areas within spa pool
The fog water collector spa comprises of the building frame, fog nets, and collection troughs or basins. The straited structural frame takes the form of a cradle and sits embedded into the landscape, its centre of gravity wedged into the site's rock substrate, the pool beneath partly supporting the structure's base. Cantilevered from the site's ledge, the cradle pivots in the direction of the wind to achieve an efficient harvest and sways slightly, allowing condensation to drip down into the cantilevered pools that surround the site.
polypropylene fog net dome plan and elevations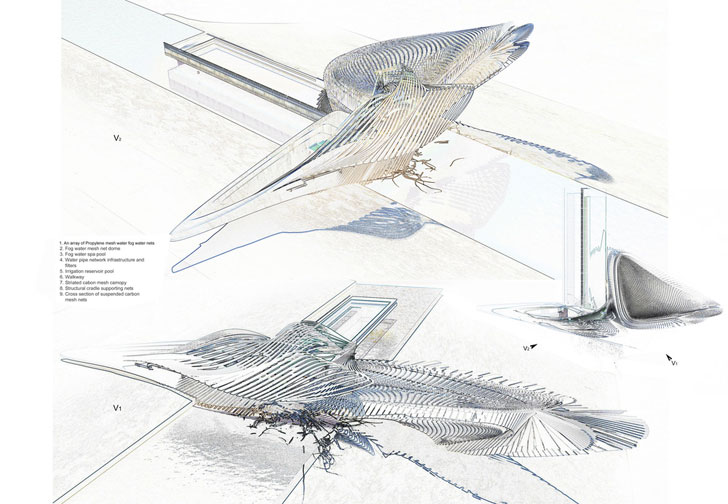 fog water pipe network distribution
striated carbon canopy and water pipe network section
fog water pipe network distribution
zoning diagrammatic plan and view of water pipe network and inhabitable space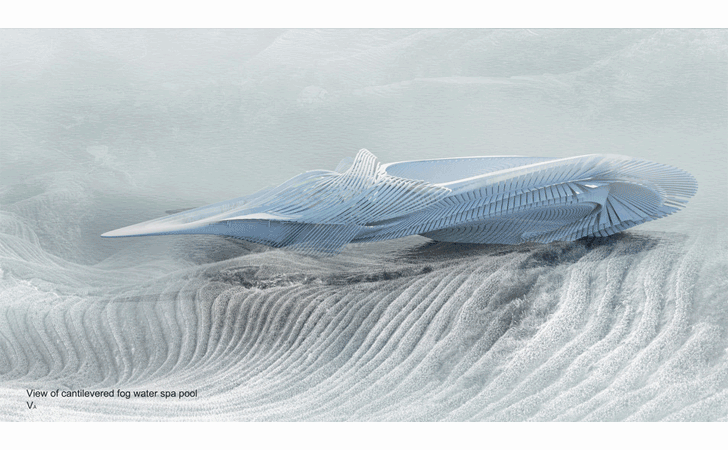 fog spa views
plan of walkways and water gradient flow-through scheme
polypropylene fog net dome plan and elevations
The fog nets, made of Raschel mesh and erected on ridgelines, efficiently interrupt moving fog and capture water droplets based on the wind direction. These droplets trickle down into the collection trough and then get funnelled through the water distribution system to be stored in the spa and field irrigation pools. The net infrastructure comprises of sections of different densities, allowing adaptation and rebuilding, making it easier to accommodate the site's natural contours. Net cleaning includes passing an electric current to dislodge toxic mould and airborne contaminants.
Consequently, a set of three pools collect water – one inside the structure anchoring it to the ground, while the other two supply the spa, field irrigation, and drinking water pumps. The high water pressure gradient, in addition to solar pumps, helps pull water through the network despite the high altitude.
Drawing from ancient Incan practices of collecting condensation or dew - prevalent in places even today, the structure produces 3000-5000 litres of filtered water a day on average.