Photography: Jannes Linders; courtesy
Benthem Crouwel Architekten
.
The new Central Station of Rotterdam is an interesting yet simple exercise in distinctly metropolitan station architecture.
At Rotterdam Central, the old station by Sybold van Ravesteyn, which consisted of a station hall, pedestrian tunnel and open platforms, each with its own canopy, was out of step with current requirements with respect to size, layout and grandeur. What was needed was a new station, designed as an entity: the station hall now runs from Proveniersplein on the north side to Stationsplein on the south – in other words, the 250-metre-wide platform roof forms a whole with the main concourse and the train travellers' tunnel. The result is that from the moment of arrival, train passengers have the sense of entering a building.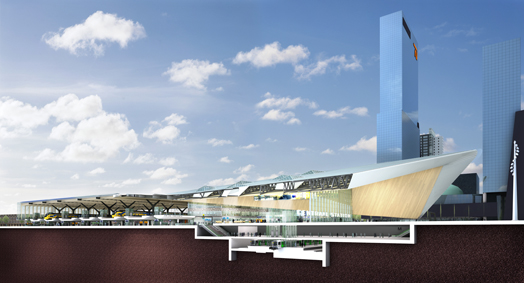 .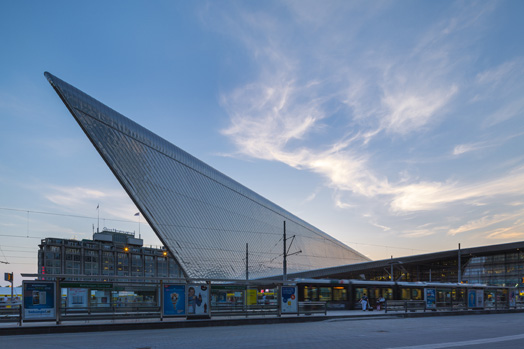 .
The station and its surrounds are designed by Team CS - cooperation between Benthem Crouwel Architects, MVSA Meyer en Van Schooten Architecten and West 8, who have maximized the stark difference in character north-to-south of the station to create a discerning environment at each end.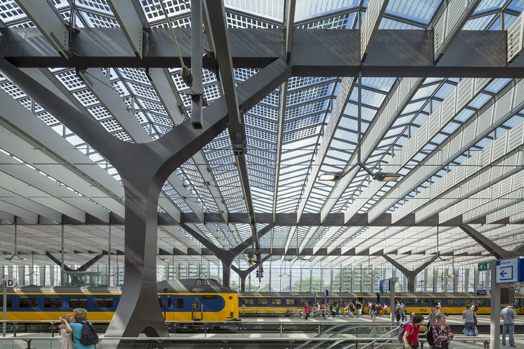 .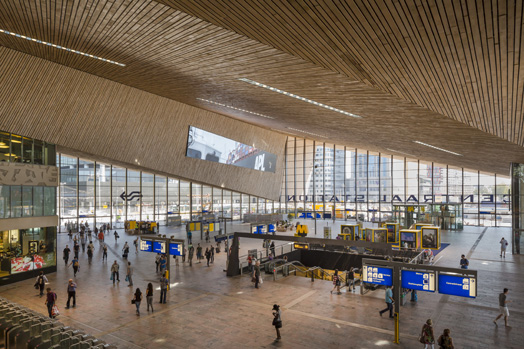 .
Towards the north, which opens to a residential area, the station manifests as a transparent hall that matches the character of the late nineteenth-century Proveniers district. Major extensions are avoided here and the green landscaping is enhanced. The new station roof makes a modest and transparent impression on this side.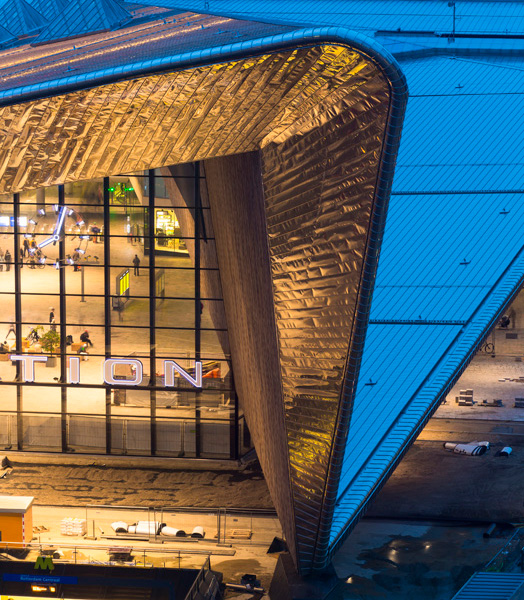 .
Towards the south, on the city centre side, the station exhibits a new grandeur that is in keeping with the dimensions of the imposing high-rise buildings that characterize the entrance to the city. Here, the building and the new station square merge and the imposing station roof folds to create a welcoming and very spacious station concourse, which also provides direct access to the new metro station below.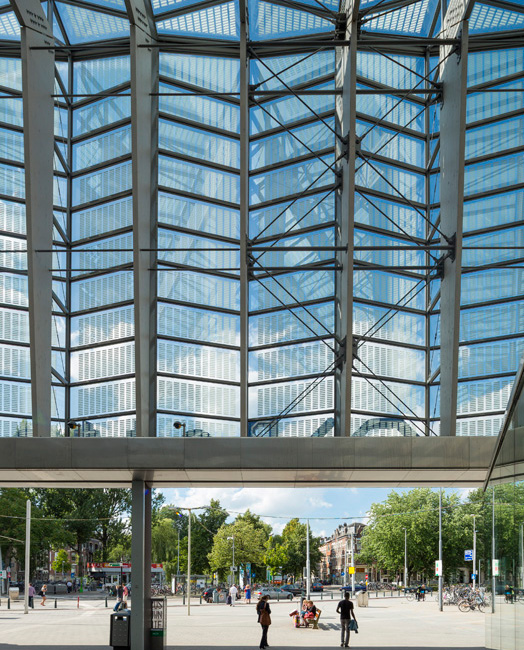 .
With the trams relocated to the east side of the station square, the public space in front of the station now offers arriving travellers a genuine entrance to the city, free of criss-crossing traffic.
The enormous scale of the new station is mitigated by the choice of wood as cladding for the gigantic roof.