Photography:
Brett Boardman & Peter Murphy; courtesy LAVA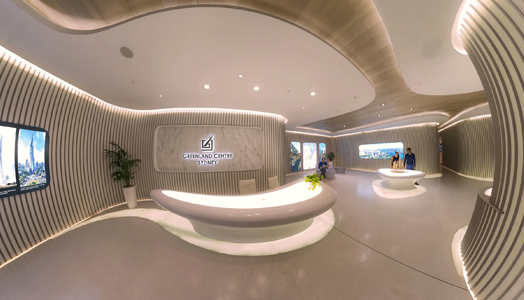 .
Working with a design that can maximize the architectural vocabulary with minimum application of material, two Australian architects design a simple yet engaging commercial space.
It isn't everyday that an interior stops you in your tracks with a 'wow'; yet it isn't easy either to come up with something new each time you have to showcase a set of requisites for your client. Australian architects, LAVA – the Laboratory of Visionary Architecture in collaboration with PTW have risen to the challenge of transforming what could have been a boring estate office selling commercial and residential fit-outs into an interesting connect that leisurely spills the beans – enticing new estate buyers.
.
Combining

digital workflow, nature's structural principles and the latest digital fabrication technologies with the aim of achieving more (architecture) with less (material/ energy/ time/ cost), the architects have designed

an organically-shaped display suite to market the Sydney Greenland Centre on Sydney's old Water Board site.
.
.
The lobby of the 1960s Water Board building now sports an undulating interior envelop with free-form furniture and curvy walls and ceilings. The fluid space features white terrazzo floors, illuminated timber desks, and walls lined with white leather and timber battens. Continuous lighting ribbons create a luminous and airy environment.
.
The latest technologies include GRP - a lightweight, strong material that can be formed into fluid shapes. Parametric modelling and rapid prototyping mean that the design went straight from a 3D computer model to the fabrication workshop, where the reception and display desks were CNC cut and coated.
.
Says Chris Bosse, director of LAVA, "People in the 21st century are looking for spaces that link them to nature, and the forms found in nature - waves, canyons, clouds; together this can create beautiful, efficient and connective spaces."
.
While LAVA purports to explore

frontiers that merge future technologies with the patterns of organization found in nature, believing that this will result in a smarter, friendlier, more socially and environmentally responsible environments, one wonders whether there could be other more engaging methods to resonate with nature instead of mimicking/simulating forms? Wouldn't a real connect (however big or small) between nature and technology be more appropriate?