Photography:
Nishikawa Oyakero
; courtesy the architects
.
Ar.
Satoshi Kurosaki
of
Apollo Architects & Associates, Tokyo, seems to be an ace at small spaces. Often working on narrow tight spaces, he tends to translate a defined design vocabulary that exceeds the expectations of his clients, both, aesthetically and logically.
Here, he once again designs a four-storey residence for a single home owner, where the design spreads vertically, offering intriguing views of the floors above and below through open-riser stairs located at the centre of the home.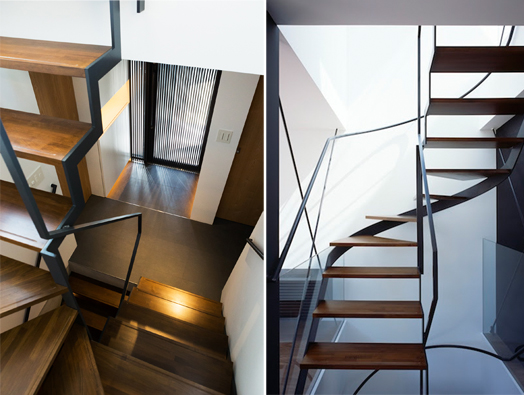 .
Built on a small site of just 57 sq. m., at the corner of a quiet residential area in Kagurazaka, Tokyo, the home stands out through its strong presence. The exterior comprises a mixed playful cladding of dark brown galvanized steel sheets laid horizontally, emphasizing the expanse of the plot.
.
Its panoramic corner window becomes the highlight of the home, completely utilizing its vantage view and adding depth to the compact vertically-oriented interiors.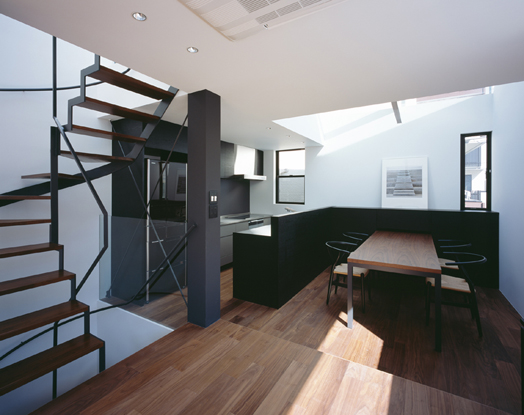 .
.
The spaces are divided thus – wine cellar in the basement; spacious storage on first floor, also serving as Japanese-styled guest room with gray and indigo Japanese paper, and pinkish-gray tatami mats; spacious open kitchen on second floor – especially designed for the gourmand homeowner with an imposing walnut dining table as the piece de resistance; while private spaces such as a bathroom, toilet, main bedroom, and a small garden occupy the third floor.
.
.
The house is commendably connected via its central staircase and has plenty of natural light filtering in from the skylight, high and expansive corner windows. The living and dining areas are unified and yet distinct with their floor-seating and chair-seating options. The architect, thus, succeeds in creating a unified, open, engaging environment in this compact abode that covers an area of 129 sq. m.