Info & Images: Courtesy Coop Himmelb(l)au
March 29, 2014 saw the ceremonious opening of House of Music, a multifunctional creative centre in Aalborg, Denmark
Designed by the Viennese architectural studio, Coop Himmelb(l)au as a combined school and concert hall, its structure is imposing and animal-like, combining fluidity with stringent rectangular form. Won as a competition entry in 2003, the building with its open structure promotes exchange between the audience and artists, and the students and teachers.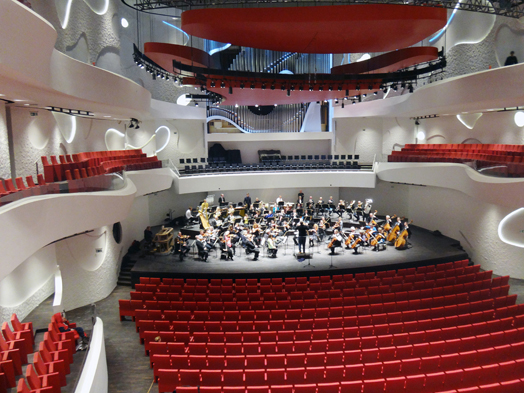 .
The core of the ensemble – the concert hall, designed to seat 1300 visitors' sports a flowing silhouette. The seats in the orchestra and the curved balconies are arranged in such a way that offers the best possible acoustics and views of the stage. The highly complex acoustic concept was developed in collaboration with Tateo Nakajima at Arup. The design of the amorphous plaster structures on the walls and the height-adjustable ceiling suspensions, based on the exact calculations of the specialist in acoustics, ensures for an optimal listening experience.
Thanks to its architectural and acoustic quality, it is said that the concert hall will be one of the quietest spaces for symphonic music in Europe, with a noise-level reduction of NR10 (GK10).
Outside, the foyer serves as a meeting place for students, artists, teachers, and visitors and opens out with a multi-storey window area onto an adjacent cultural space and a fjord. Under the foyer, three more rooms of various sizes complement the space: the intimate hall, the rhythmic hall, and the classic hall. Through multiple observation windows, students and visitors can look into the concert hall from the foyer and the practice rooms and experience the musical events, including concerts and rehearsals. Five stories high with stairs, observation balconies, and large windows with views of the fjord, it is a lively, dynamic space that can be used for a wide variety of activities.
Environmentally, the building is equipped with a building management program that controls the equipment in the building and ensures that no system is active when there is no need for it. In this way, energy consumption is minimized. Instead of fans, the foyer uses the natural thermal buoyancy in the large vertical space for ventilation. Water-filled hypocaust pipes in the concrete floor slab are used for cooling in summer and heating in winter. The concrete walls around the concert hall act as an additional storage capacity for thermal energy. The fjord is also used for cost-free cooling.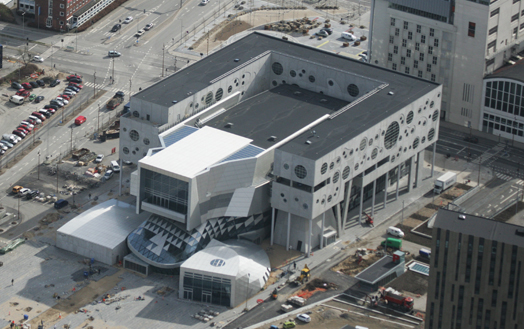 .
The piping and air vents are equipped with highly efficient rotating heat exchangers. Very efficient ventilation systems with low air velocities are attached under the seats in the concert hall. And finally, air is extracted through a ceiling grid above the lighting system so that any heat produced does not cause a rise in the temperature in the room.