Photography: James Ewing;c ourtesy SOM Architects
.
Design for academia has gradually notched up to focus on free thinking and expression; opening up newer avenues in the sculpting of spaces that nurture such overall growth…
The pedagogical model of the century-old The New School at NYC has been at the forefront of progressive education, with design and social research driving its approach. Consolidating its spread across the city into a comprehensive space in New York's historic Greenwich Village, its new University Centre designed by Skidmore, Owings and Merrill's Ar. Roger Duffy that opened its doors to the spring semester in January 2014, is an innovative design that responds to the school's increasing demand for state-of-the-art, interdisciplinary spaces.
.
Designed to achieve LEED® Gold, the 16-storey centre provides space for all aspects of a traditional campus, with 200,000 square feet of academic space on the first seven floors and 150,000 square feet for a 600-bed dormitory on the levels above.
.
.
.
A central stair, intended as the principal means of circulation through the building, is its principle design feature - a focal point both inside and outside the building. Interactive spaces are dispersed vertically, creating strategic adjacencies that appear as faceted offshoots from the stairways and corridors. Faceted walls clad in glass-fiber-reinforced concrete panels weave their way through the facility, creating 'sky-quads' or free-wheeling social platforms viz., student lounges and resource centres with adjacent meeting rooms, study areas, cafés, and pin up spaces for design studios, etc.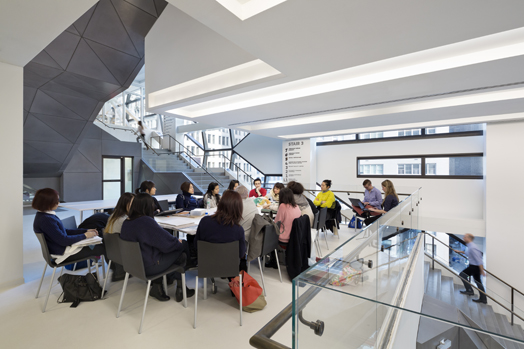 .
.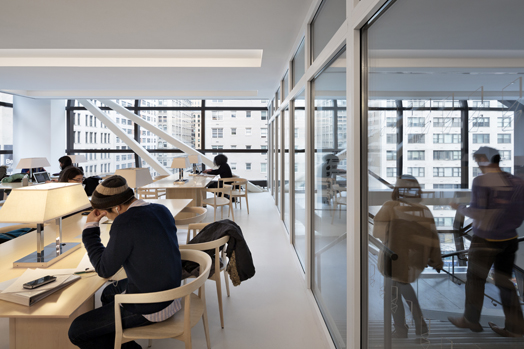 .
Interspersed along these zones are long, loft-style spaces that house 50,000 square feet of design studios, classrooms, and computing labs; each integrally equipped with power, data and lighting – to enable reconfiguration and mixed use at any given time.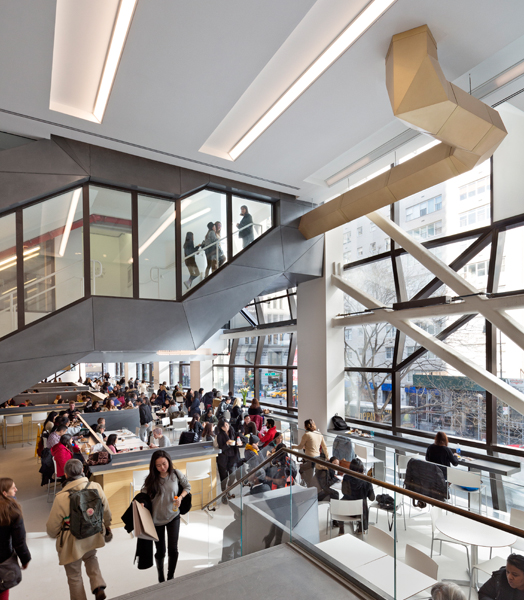 .
Raw finishes and an exposed mechanical system further ensure flexibility in the academic spaces. To bring light into the 30,000-square-foot academic floor plates, clerestory windows line both walls of the main corridor. Horizontal windows and light shelves naturally illuminate classroom ceilings, reducing lighting loads.
.
Other notable features include: mitigating peak elevator demand via a skip-stop elevator system; limiting the building envelope to 35% glass, decreasing solar gain and optimizing interior daylighting; accomplishing electricity efficiency by freezing water during off-peak hours and allowing the ice to melt and provide for peak hours; water treatment facilities; waterless urinals and a green roof amongst others.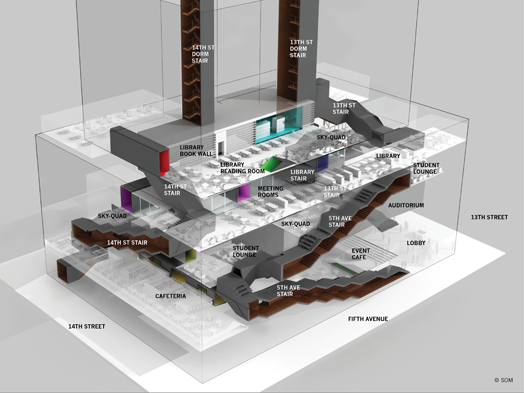 .
The structure creates hives of activity that are traced along the facade with large glass windows. This innovative interior organization is expressed in the exterior of the building. Tightly woven, purpose-built spaces clad in hand-finished brass shingles contrast with the open connective tissue of the stairs and quads visible through a glazed skin. The exterior mediates between the cast-iron facades and brownstones of the historic surroundings, creating an immersive environment between the campus community, the local neighborhood, and the city.