Photography:Courtesy the architects
© Iwan Baan
Designed by award-winning LA-based Ar. Thom Mayne of Morphosis, the new building of Emerson College with its bold structure and sweeping forms is an architecturally significant addition to the Hollywood skyline.
Emerson College in Los Angeles, CA received a new building last month. The spectacular new academic and residential facility proposes to solidify Emerson College's reputation as the world's leading institution of higher learning in communication and the arts.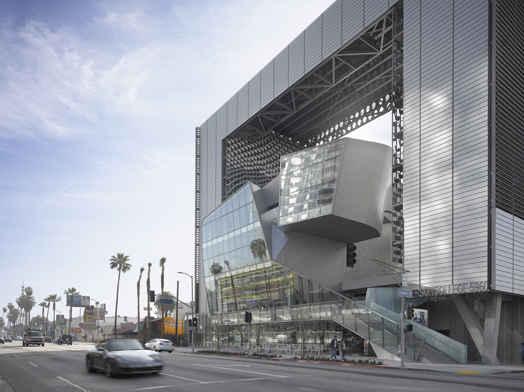 ©

Roland Halbe
The 10-storey sustainable facility features a host of innovative amenities designed to provide students with the opportunity to pursue their creativity. Composed of two slender residential towers connected by a helistop, the square frame encloses a central open volume to create a flexible outdoor "room."A sculpted form housing classrooms and administrative offices weaves through the void, defining multi-level terraces and active interstitial spaces that foster informal social activity and creative cross-pollination. They include wired classrooms, an open-air screening and live-performance space, a Dolby Surround 7.1 audio post-production suite, a 4K screening room, computer labs, mixing suites, and
a planned green screen motion capture stage.
©
Iwan Baan
Looking out onto the multi-level terrace, exterior corridors to the 217 student suites and common rooms are shaded by an undulating, textured metal scrim spanning the full height of the towers' interior face. Looking to the local context, the centre finds a provocative precedent in the interiority of Hollywood film studios, where outwardly regular façades house flexible, fantastical spaces within.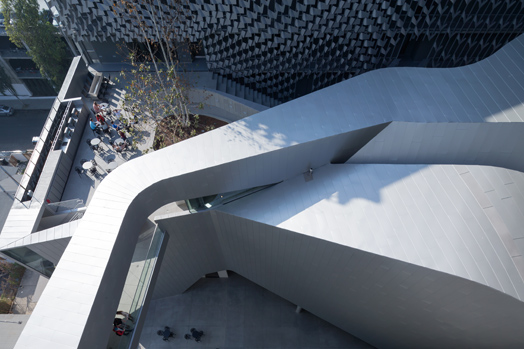 ©
Iwan Baan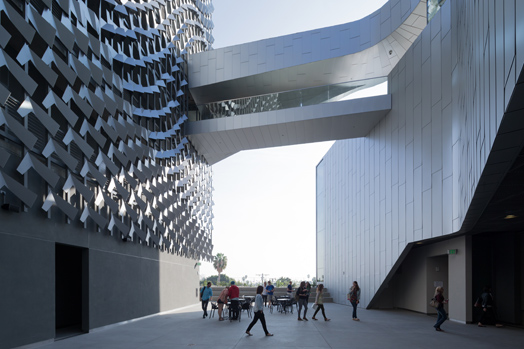 ©
Iwan Baan
With rigging for screens, media connections, sound, and lighting incorporated into the façade's metal framework, this dynamic visual backdrop also serves as a flexible armature for outdoor performances. The entire building becomes a stage set for student films, screenings, and industry events, with the Hollywood sign, the city of Los Angeles, and the Pacific Ocean in the distance providing added scenery.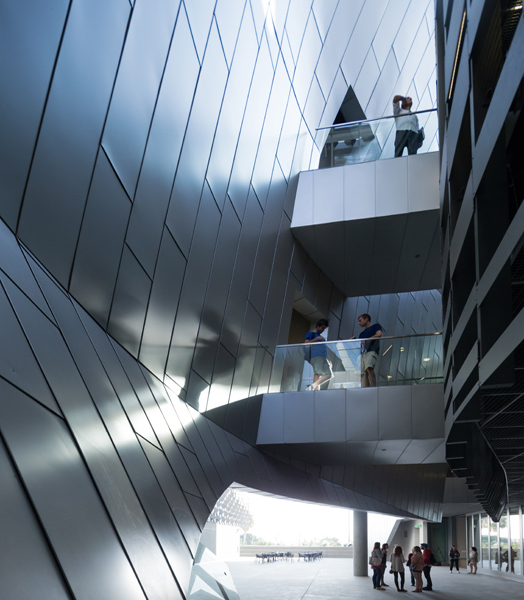 ©
Iwan Baan
Anticipating a LEED Gold achievement, the building's exterior features a dynamic sun shading system that adapts to changing weather conditions to maintain optimal indoor temperature and natural light levels. Heating and cooling of the building is further optimized through an innovative passive-valence system developed by international engineering consultants, Buro Happold. Additional green design initiatives include: the use of recycled and rapidly renewable building materials; installation of efficient water-saving fixtures; a high-performance glass curtain wall to minimize heat gain; landscaping and a living green wall; and a central management infrastructure to monitor overall building efficiency.