Photography: Courtesy the architect
.
House of Writing incorporates spatial and design elements that are conducive to creative thought and productivity.
The House of Writing is a proposed wing of the Maison de l'Ecriture in Montrichier, Switzerland, a concept proposed by Arizona-based Blank Studio Architecture, who have envisioned a two-storey dwelling that will offer the resident writer contemplative spaces with minimal distraction.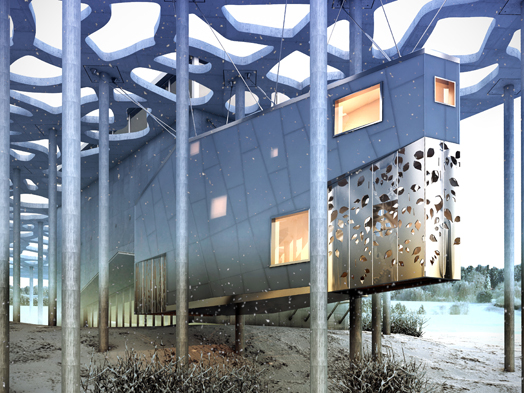 .
The floating structure is suspended from a concrete canopy, while its exterior utilizes etched glass and satin-finished stainless steel panels for the absorption and diffusion of light respectively. The building's translucent glass-wrapped walls and generously scaled clear-vision windows filter in natural light, besides offering the writer unparalleled views of the Swiss landscape.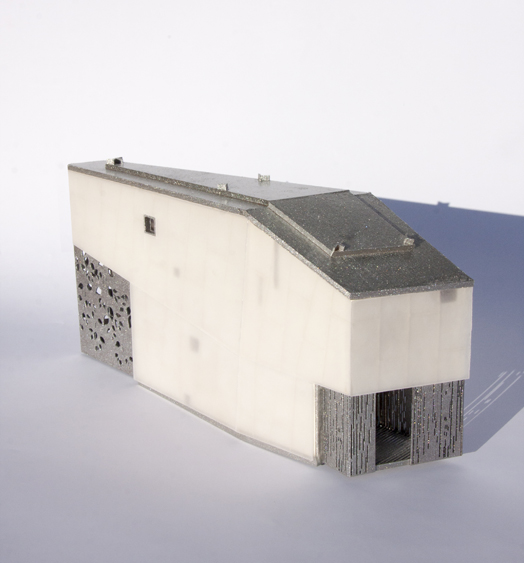 .
Panels with perforated openings, reminiscent of shadow patterns cast by trees in the Jura Forest, enclose two outdoor patio areas at the front and rear. Open-grate flooring on both patios allows the passage of water, light and air, reminding the occupant of the building's gravity-defying structure.
.
The interiors are warm and cosy thanks to birch wood panels that clad the home's walls and ceilings. A walk through the first patio leads to the ground level that contains the common area, bathroom, kitchen and dining room, and opens out into the second outdoor patio. A black-stained oak-panel staircase that scales the height of the structure leads to the first portion of a split upper level floor that holds sleeping, changing and bathing areas. Further up, the building tapers into a prow. The loft level holds the writer's workspace, where darkened steel dominates on desks and countertops, frames are minimal and fittings concealed.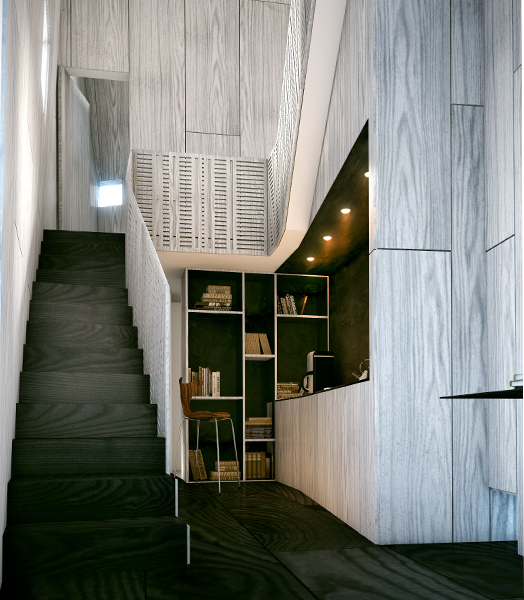 .
.
The loft-like corner encourages introspection and the act of writing. Cut off from the rest of the house, it offers a sense of comfort to the resident writer, comparable to the solitude of being in a rustic wooden cabin.
This concept was a competition entry by Blank Studio Architecture and remains un-built till date.