Photography: Courtesy la Biennale di Venezia
Absorbing Modernity 1914-2014
©Rem Koolhaas
We bring you a lowdown on what you can expect during the most eagerly-awaited and global architectural event - La Biennale di Venezia…
In its 14
th
edition, the exhibition is titled 'Fundamentals' and will take place from 7
th
June to 23
rd
November 2014 at various venues across Venice. Dutch architect Rem Koolhaas who is the curator says "Fundamentals will be a Biennale about architecture, not architects."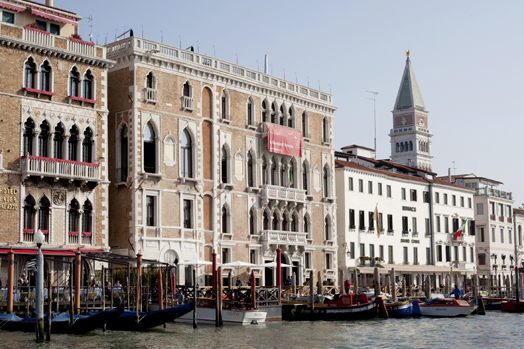 Headquarters of la Biennale di Venezia

2010

©

Giulio Squillacciotti
The exhibition proposes to break off all connections with contemporary architecture and instead focus on the progression of global architecture over the past 100 years. Through this colossal exercise, it seeks to find out how architecture finds itself in its current situation as well as speculate on its future; emphatically moving away from presenting objects and architects.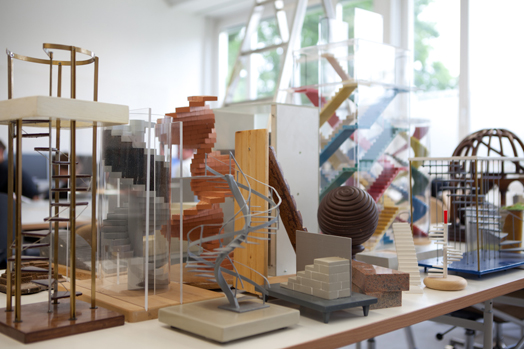 Stair_models at the Friedrich Mielke Institute of Scalology
©Rem Koolhaas
In today's technologically-driven society, people retain less in their memories and more on their gadgets. The Biennale seeks to address this issue by resurrecting memories through installations that narrate a century's history thereby showcasing a global overview of architecture's evolution into a single, modern aesthetic.
Paolo Baratta -

President of la Biennale di Venezia &
Ar. Rem Koolhaas - Curator of the 14th International Architecture Exhibition
©

Giorgio Zucchiatti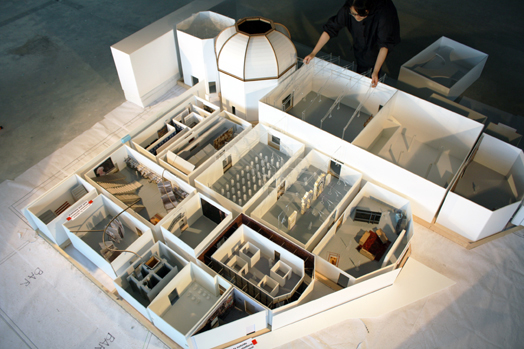 Central Pavilion_model in progress
©Rem Koolhaas
At the same time, it seeks to expose distinct, country-specific architectural characteristics and typologies that continue to flourish within the larger global context even as international exchanges between countries develop and deepen.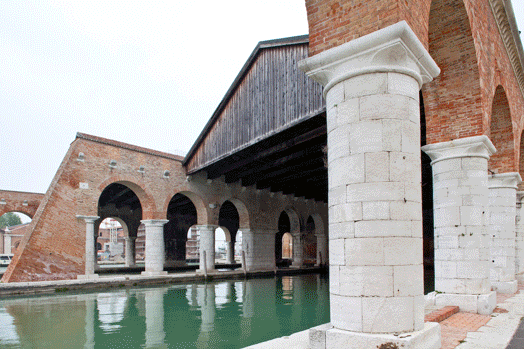 Various venues of the Biennale

©
Giorgio Zucchiatti &
Giulio Squillacciotti
Besides several architectural workshops and seminars, co-lateral events such as film, dance, music and theatre is set to infuse life and humour into the exhibition that will run for almost six months.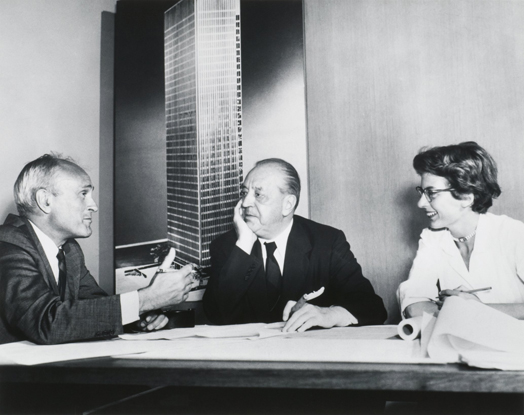 Philip Johnson, Ludwig Mies van der Rohe, and Phyllis Lambert in front of an
image
of the
model
for the Seagram
building
, New York, 1955.
Photographer unknown
© United Press International.
"Born as an 'imitation' of the Art Exhibition and developed to 'invite' architects to bring us their installations, this architectural exhibition has evolved into a major exhibition-research project," says Paolo Baratta, president, La Biennale di Venezia. It thus consciously fosters an immersive relationship between the public and architecture.