Photography: Toshiyuki Yano; courtesy Airhouse Design Office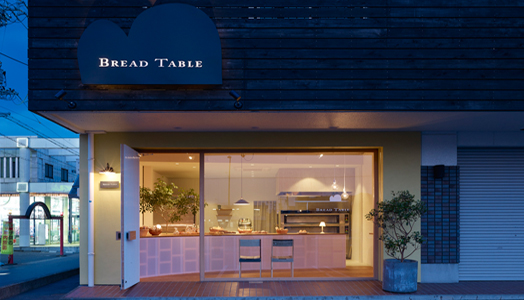 .
Often a simple interior design exercise is all it takes to bask in the distinctive glow of the space…
For a store admeasuring to a total floor area of 46.37 sq. m., baking and selling a basic need – bread in Gifu City, Japan, Ar. Keiichi Kiriyama from the Airhouse Design Office has evolved a very experiential design, where the entire process of kneading the flour, baking it, seasoning it and packaging and presenting it, down to the last detail of selling it and finally the inescapable book-keeping activity, is all woven into an aesthetic narrative.
.
While this makes the simple act of baking and selling bread an intriguing feature for the visiting clientele, it works on the psyche of the store inmates, enriching their work aesthetic and resulting in a greater sense of job satisfaction.
The store is aptly called 'Bread Table'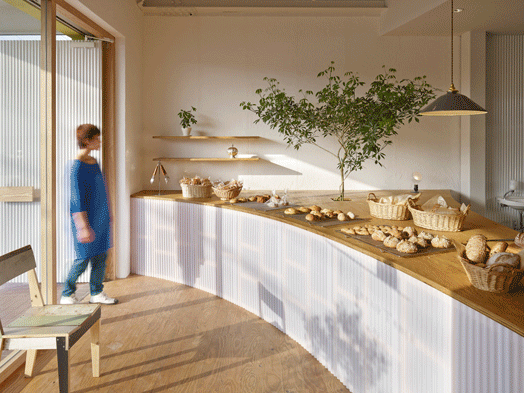 .
Giving equal importance to both – the kitchen and the sale counter, Keiichi has divided the store via a large swooping table-like platform, which takes on the mantle of an all-purpose fit-out: a display space, a checkout counter, or a working space to cut bread and knead dough.
.
With structural plywood as the pragmatic tabletop, the sides of the platform are finished in translucent polycarbonate corrugated sheets; effectively emphasising the presence of the table while blurring boundaries. This enhances the overall aesthetics of the store.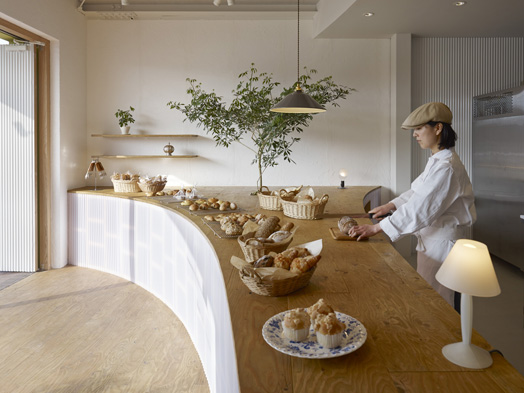 .
For this shop with a small-sized staff, the design enables the owner to always have knowledge of the shop situation and allows different actions depending on the amount of bread produced. As a result, the table creates an open atmosphere, fosters communication between the customers and bakers, dynamically displays the process from the time the bread is baked to the moment it is sold, and creates a rich retail space that is fun for working as well as shopping.