Info & Images: Courtesy UNStudio
The World Horticultural Expo 2014 in the Chinese city of Qingdao is on view from April to October 2014 and is based on the theme - 'From the Earth, For the Earth' in a metaphoric pavilion designed by UNStudio.
The main theme of the expo is and aims to encourage the exchange of culture, technology and horticultural knowledge. Its design commission opened through a competition way back in 2011, won by UNStudio combines expert knowledge of logistics, spatial organization, specialized typology, future flexible usability, function programming, façade intelligence, user comfort and sustainability.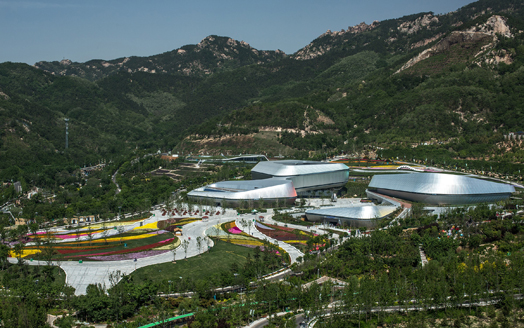 .
Says Ben van Berkel of UNStudio, "The architecture for the Theme Pavilion overflows and interacts with the surrounding landscape. The forms of the pavilion buildings respond to the nearby mountains, with their carefully composed rooftops acting as plateaus, each addressing a different portion of the master plan by different inclination and terracing and providing panoramic views which extend far into the surrounding landscape. It alludes to the notion that that a building can open itself up and encourage public interaction."
.
.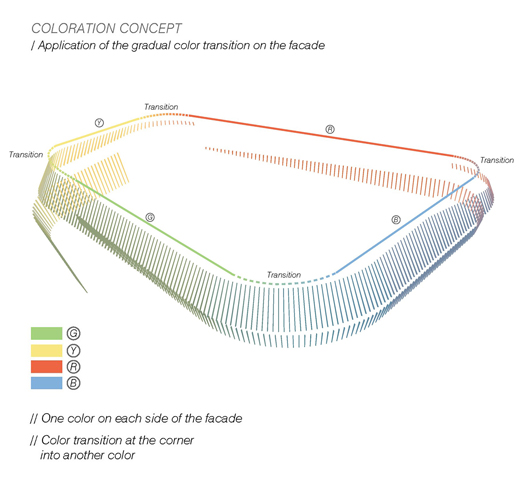 .
The architectural design gesture for the 28,000 sq.m pavilion is borrowed from the shape of the Chinese rose - the city flower of Qingdao – and converted into the floor plan layout of the design. Its four pavilion volumes or 'petals' are connected by internal and external walkways and frame a central square, which becomes a 'stage' for the visitors: a dynamic focal point surrounded by viewpoints on varying levels.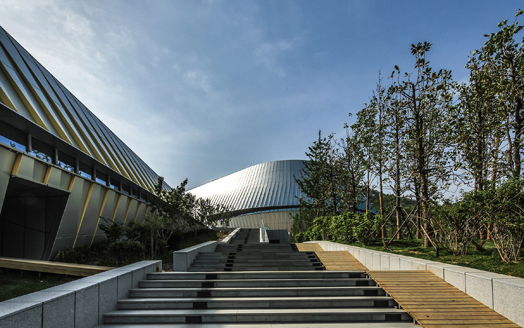 .
.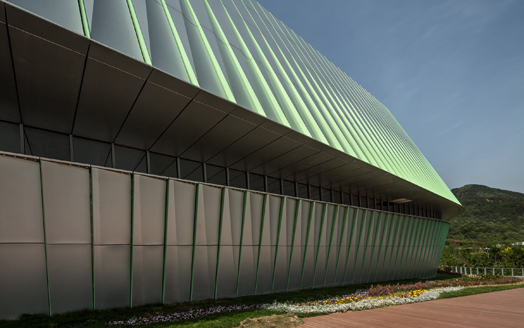 .
The Theme Pavilion operates as the platform for monthly programmed and seasonally themed activities, featuring flowers in spring, shading in summer, fruits in autumn and greens in winter. This colour concept is further reflected in the facade elements, which are constructed from vertically folded aluminium panels. The four theme colours (green, yellow, orange and blue) are applied along the lengths of the vertical folds, appearing and disappearing depending on the viewpoint.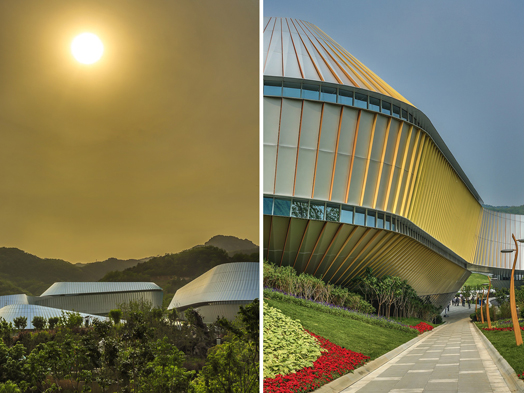 .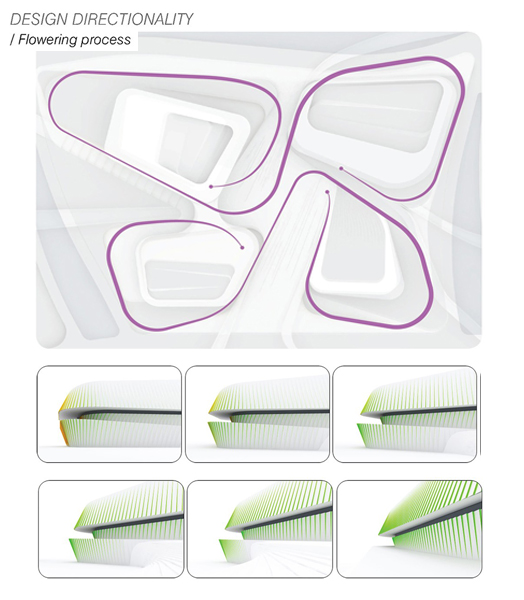 .
Following the World Horticultural Expo 2014, the landscape art themed expo park will become a new venue for eco-tourism, which will shift the focus of Qingdao's tourism from sightseeing to leisure. Together with the organisers, UNStudio has incorporated a possible future lifecycle into the design of the Theme Pavilion by allowing a transformation of the buildings into a hotel building, accommodating conference and teaching facilities. As part of the design process, the future use of the Theme Pavilion is therefore incorporated into the DNA of the design.