Info & Images: Courtesy AMLGM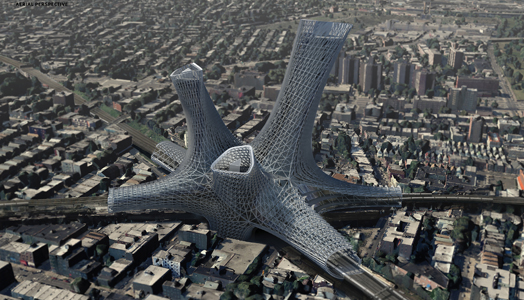 Birds eye view
Urban Alloy Towers by architectural practice AMLGM is the symbiotic re-purposing of the air rights above transportation corridors in New York to forge the dynamics of a continually evolving global centre. Do we really need this?
Urbanist's have long touted the benefits of greater housing density near public transportation hubs. Urban Alloy proposes the advancement of this idea by locating a multi-use typology rooted in the remnant spaces surrounding the intersection of transportation infrastructure, such as elevated train lines and freeway interchanges.
Train view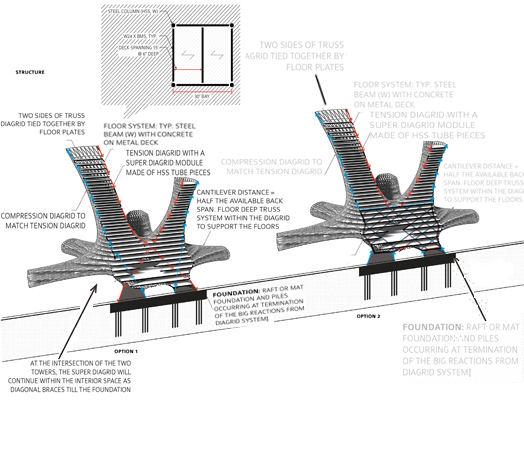 Structural Diagram
Based on the concept that the most dynamic cities of the 21st century, such as New York, are anthropomorphic alloys that act as engines for innovation and social cohesion and that to continually evolve, the city needs to grow in smart ways, architects

Matt Bowles and Chad Kellogg

propose a plan that will draw the energy of Manhattan out into the four other boroughs without disrupting existing land use.
Atrium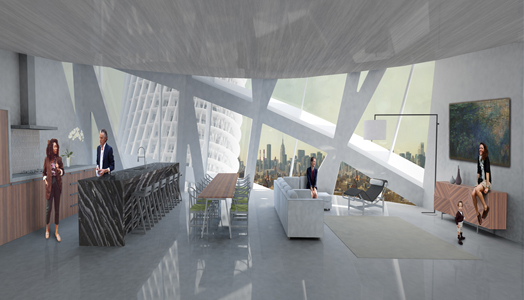 Interior view
Having chosen the intersection of the LIRR and the 7 train as a test case, and working on the premise that the paradigm of "one size fits all" is obsolete, the architects play on the presumption that urban citizens would welcome diverse living situations, and would be willing to pay a premium for spaces that are tailored to their particular needs.
Plans
Consequently, the wide range of programmatic options inspire a blend of floor plate geometries that transition from cylindrical to triangular from the base to the top of each tower. This blend, along with constraints instilled from the site, generates a complex geometry that requires a new facade optimization paradigm. This skin then becomes the cynosure that literally captures the air-space - possibly the only breathing space now left in burgeoning metro-cities.
Program diagram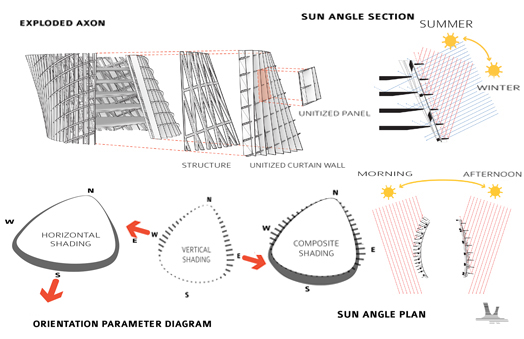 Axon skin diagram
The skin is actually an intriguing piece of design: A composite or alloy of multiple flexible systems is required to optimize a skin in which every point has a unique environmental exposure. The system is deployed on a grid that follows the geometric directionality of the surface. At each intersection of the grid, the normal of the surface is analyzed against its optimal solar shading and daylight transmitting requirements. An authored algorithm then generates vertical and horizontal fin profiles that blend with the profiles at adjacent nodes. The result is an optimized system of decorative metal fins that are unique to each specific solar orientation. Based upon the tenants of current solar facade design, the algorithm utilizes deep horizontal fins along southern exposure, and deeper vertical fins along its east and west facing surfaces. This system generates specific fin depth and orientation for every point on the surface.
Axon section
The all-pervading question that remains is: is this really required??