Photography: Courtesy LIX Pen LTD
Doodle your way with 'LIX', the world's smallest 3D printing pen that brings out the playful creative in you...
.
Imagine an avant garde footwear designer; an industrial designer with a bent for technology; and a graphic designer collaborate in conceptualizing and designing the world's smallest 3D printing pen? Well,
Delphine Eloise Wood, Anton Suvorov and Ismail Baran respectively have done just that and created a precision-driven engineered design tool that can form structures in the air.
.
LIX gives you complete freedom to unleash your creative talent communicating your thoughts of writing, accessorizing, decorating pieces, kiddie art and crafts, artistic jewellery designs, communicating your prototypes, and various other forms of drawings.
All this is possible because the colored plastic filament that is heated
at
∼392
°F melts and cools rapidly to form free structures in the air, as you doodle.
.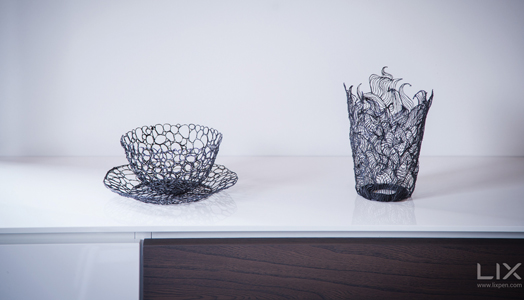 .
It will not just allure designers
, architects and sculptors but can add great impetus to kids to give form to their free-flowing expression,
in turn sharpening their creative knack; and increasing their inclination to drawing and writing – a basic orientation that has taken a beating with the
innovations of smart phones and computers.
The cutting-edge design of the LIX elucidates functionality and usability to perfection, as it comfortably fits into the human hand. A perfect innovative blend of traditional design with contemporary influence, it has a common USB port that can charge anywhere. A highlight is its speed-controlling button.
The LIX 3D printing pen is sure to pave the way for more compact innovation in 3D technology in the near future.