IAnD Exclusive

Design Blast FIFA 2014

Info & Images: Courtesy
Populous
.
The Arenas Das Dunas is a new stadium especially designed for FIFA 2014, but structured for future use 24/7/365...
Brazil has an unparalleled record in World Cup football. As host for FIFA 2014, each of its game venue is designed to maximize the experience of both – the game and the country.
.
The Arena das Dunas in Natal, Rio Grande do Norte, set to host four group stage matches is designed by the world's leading sports architecture practice, Populous.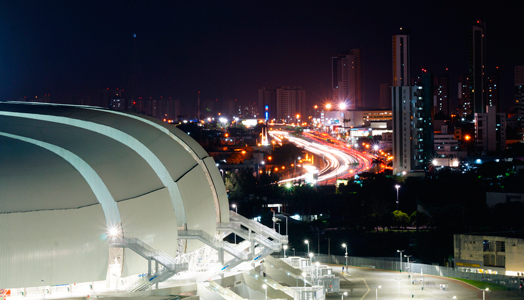 .
Inspired by Natal's sand dune landscape, the stadium's
facade and roof are integrated and made up of 20 petal-shaped modules, designed to be higher on one of the stadium's sides, giving the impression of moving sand dunes.
.
Made of steel trusses, covered on the outside with aluminum tiles, with thermal and acoustic insulation, the petal-shaped structures are internally coated with a PVC pre-stressed membrane. The parts are joined by translucent polycarbonate, allowing light to filter through. Speaking of the uniqueness in the design of das Dunas, Lead Architect and
Senior Principal at Populous, Christopher Lee informs that in addition to enhancing the aesthetics, the design facilities better light and ventilation for the stadium.
.
Another highlight is the ability of the roof to capture rainwater and direct it to the nine tanks below the lower stands, which in turn facilitates up to 3,000 cubic meters of water to be available for maintenance of the washroom blocks and the pitch.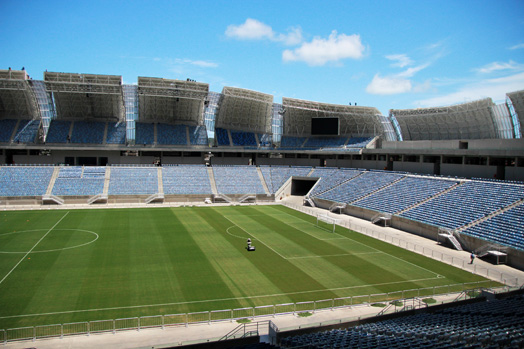 .
With the structure, facade and the seating zones as the chief reiterations of stadium design, the arena with its four seating zones, identifiable by varying shades of blue: general public, hospitality, VIP and Executive VIP and its 521 seat reservation for the differently-abled, is accessible at all levels, with ramps and elevators, from the box office to the changing rooms. The area is secured with 200 cameras with facial-recognition capability and two 64 sq.m. screens that display information and match statistics.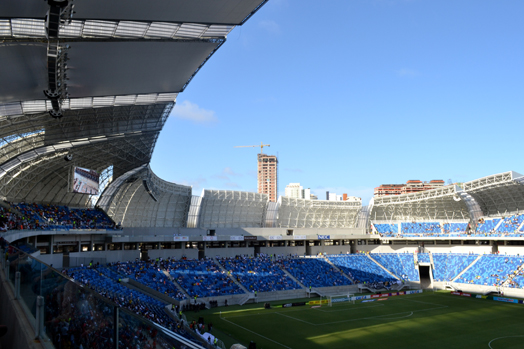 .
With the first row of stands only 15 m away from the pitch, fans will be close to the action. In addition, the arena's lighting system, which uses 306 floodlights, provides uniform and consistent visibility, eliminating shadows and facilitating TV broadcasts using Full HD technology. The PA system is integrated with the stadium's two Players for improved match conditions. The Bermuda Tifton 419 grass species used for the pitch is ideal for the region's hot climate, and the drainage system allows for matches to be played even on extremely rainy days.
The stadium is concpetualized as a multi-purpose venue to be used for sports events, trade shows, concerts etc. It has a capacity to seat 42,000 with 10,600 removable seats. Additionally, an outdoor plaza of approx. 22,000 sq.m. is equipped to host independent events.