IAnD Exclusive


Design Blast FIFA 2014


Photography: Courtesy the architects
.
Arena Pantanal is one of the most energy-efficient stadiums in Brazil for the FIFA World Cup 2014...
As one of the five new venues, Arena Pantanal located in the city of
Cuiabá and
designed by GCP Architects, focuses on sustainability, making it one of 7 'green' stadiums that have fast become the pride of the country.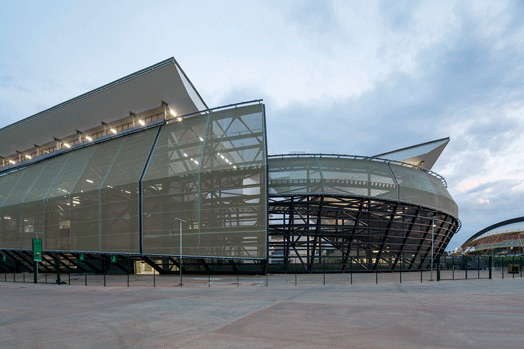 .
Standing on the same piece of land that once hosted the Jose Fragelli stadium, this ecologically efficient facility meets high standards of urban, social and environmental responsibility. Open and inviting, it has abundant sources of natural lighting and cross ventilation.
The permeable and airy architectural form creates microclimates with vegetation and the use of water ponds; also, the location of the building and that of the football pitch is protected from strong sunlight by an envelope of metal louvers associated with a membrane of cast-glazed PVC.
Modular steel and precast concrete anoints the upper grandstands and the 42,000 plus seater has the flexi option of reducing up to 27,000 seats if need be. Other sustainability aspects addressed include use of certified wood; reuse of waste and debris from old to new construction; abundance of greenery, rainwater harvesting; water control faucets; and extensive landscaping that works both, for beautification and to replenish water resources, etc.
.
Once the mega event culminates, the stadium will serve as a multi-purpose venue for concerts, exhibitions, fairs and sports events. Consequently, the surrounding
3,00,000 sq. m. area offers the locals with community spaces, restaurants, play area, walking track, museum, restaurant and a green zone with a pond. All species of plants and trees belong to the Cerrado, Atlantic Forest and Amazon Rainforest ecosystems, thereby representing Mato Grosso's three biomes.
.
Effectively blending modern design and sustainability solutions, Arena Pantanal is yet another newbie structure on the map of Brazil that will go down in the history of football and other events.