Photography: Adrian Gaut; courtesy Concrete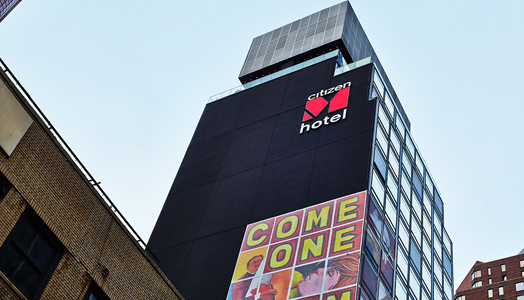 'Come One, Come All' inviting wall art on facade by artist Jen Lui
The new citizenM hotel in the heart of New York City on West 50th Street, in the middle of the theatre district, just off the corner of Broadway, and only three blocks north of Times Square is as 'busy' as its neighbourhood!
Rising from the ethos of this buzzing metropolis and featuring all its signature elements – from 14sq.m. mood-pad oriented guest rooms with lux washroom and interiors; floor-to-ceiling glass walls, plush interiors, loads of customized interactive spaces, aesthetically juxtaposed and emotionally connecting interior-exterior dynamics, et al – the hotel once again endorses its "luxury on a budget" motto.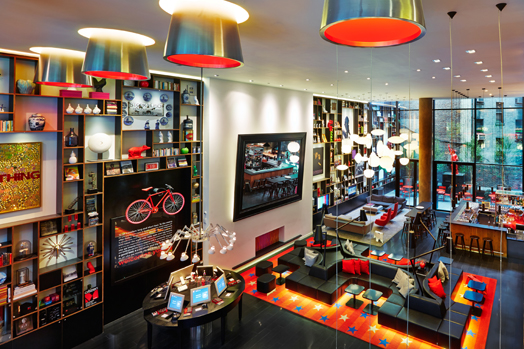 Lobby
Lobby
Amazingly synchronised as a franchise, the hotel design rises up to the contextual architectural elements via its colours, art and eclecticism. Designed as a space that can cater to both locals and travellers, the hotel establishes an instant connect with its massive wall art 'Come One, Come All' on the facade, created by artist Jen Lui - a piece of art that refers to the historical context of Times Square. Once inside another centrally positioned striking artwork in the heart of the living room by Julian Opie as well as a rooftop bar has walking people carved into the granite cladding of the elevator core and filled with gold leaf. The artwork also divides the space in two: the double height living room area and the lower adjacent area with canteenM under the mezzanine floor.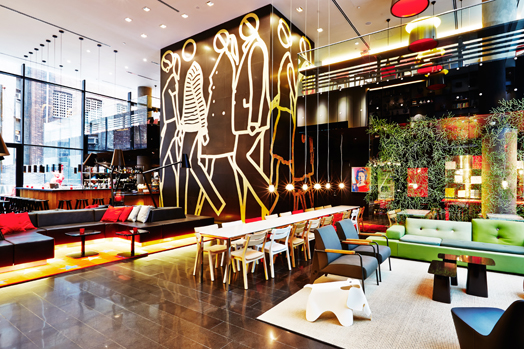 Large artwork by artist Julian Opie in the lobby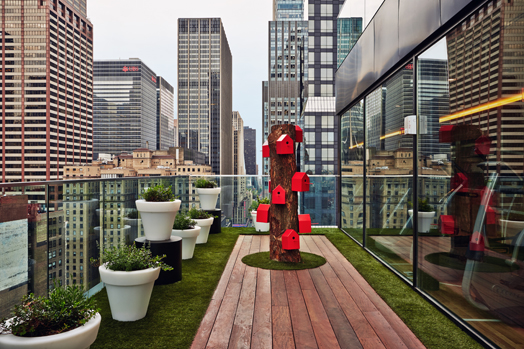 Terrace
Contextually tuned in to the spirit of Times Square, the 22-storey, slim black aluminium clad and stucco building tower is set back from the street by a small attractive plaza and a rooftop bar – both designed as recognisable glass volumes that are almost carved out of the mass to accentuate the distinctive social function they have within the hotel. Above, a series of identical bedroom windows, the width of a bed, show the rooms, individually illuminated depending on the mood of the guest. The double-height ground floor, rooftop bar and artwork are more expressive, bright and dynamic, emphasising the importance of citizenM's communal life and connection with art. Strategically placed designer furniture completes the plush ambience in these communal spaces.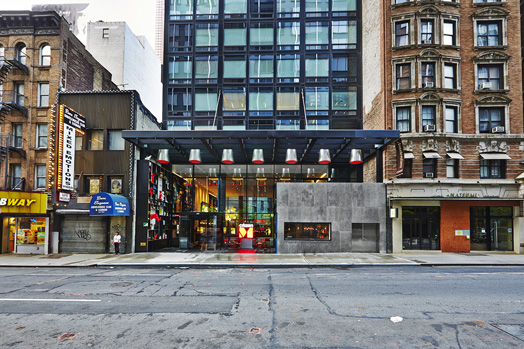 Street view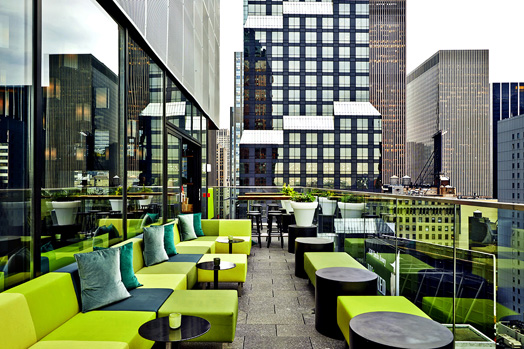 Roof top terrace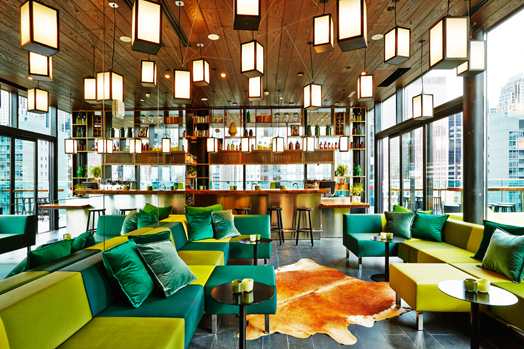 Roof top bar
In totality, the hotel continues to define the multi-functional qualities of modern mobile travellers by offering an environment that is suitable for work, play, socialising or relaxation.