By Marina Correa
Photography: Courtesy & copyright fondation louis vuitton
The Foundation Louis Vuitton, currently in its final stages of construction, is touted and eagerly-awaited to be a new space that places creation at the heart of the city - opening up a dialogue with the public and offering artists and intellectuals a platform for debate and reflection…
The 8,637 m2 cultural complex will house pieces by masters such as Picasso and Warhol alongside a range of contemporary art works – showcasing an exciting mix of styles and eras. It will also accommodate a restaurant and auditorium besides allowing visitors to enjoy exceptional terrace views of Paris.
Situated in the historic Bois de Boulogne park, attached to the over-century old Jardin d'Acclimatation garden, this landscaped park was the very inspiration for this 'iceberg-among-the-trees' structure by internationally renowned architect Frank Gehry.
He took his inspiration from the lightness of late 19th-century glass and garden architecture to draw his first sketch; the choice of the materials expresses the idea of transparency, where a glass shell covers the body of the building, an assembly of blocks known as the 'iceberg', giving it its volume and movement.


Known for pushing back the boundaries of traditional architecture, Frank Gehry's creativity calls for constant technical innovation. Both in the project's very design and in undertaking the work, Foundation Louis Vuitton venture has overturned the principles of architecture. Painstaking attention has been effected to bring to fruition 13,500m2 of 12 glass sails and 19,000 white sheets of fibre-reinforced concrete. In fact, a specific 3D tool was developed in collaboration with an aircraft manufacturer for millimeter-specific curvatures, while a special furnace met the curvature and slenderness requirements.
Being constantly aware of its site, environmental sustainability has been at the core of the project. Even before launching it, detailed studies were conducted on flora, fauna, ground water, noise pollution and accessibility, allowing the architect to make informed choices regarding materials that carry a reduced environmental impact.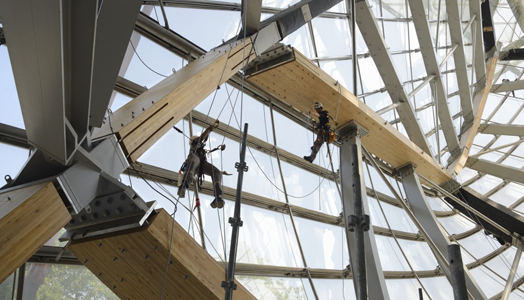 .
The buck does not stop there. After the cultural complex is thrown open, preserving natural resources will be a priority viz. rainwater harvesting, geothermal energy and ground water tables that will heat or cool the premises and then be reinjected into their original water tables.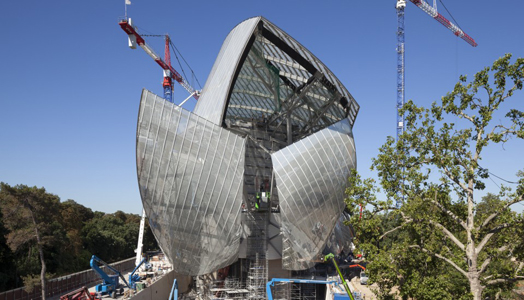 .
.
Fittingly, the project has already won several engineering prizes with the Harvard University, including the building in its curriculum for its architecture studies. It is scheduled to be complete and open to public by Sept – Oct. 2014.