Compiled & Excerpted by Team IAnD from 'Building up Bamboo' feature by Jennifer Chu from MIT News Office
Photography: Courtesy MIT & World Wide Web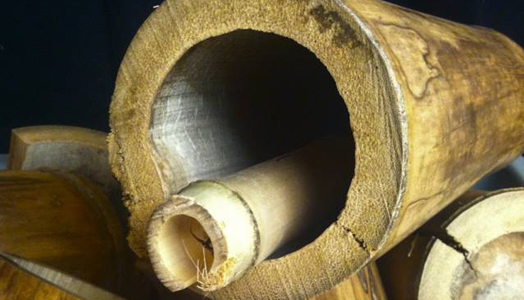 Analyzing bamboo's microstructure ©Jennifer Chu/MIT
MIT Prof. Lorna Gibson's research on the structural strength of bamboo could open significant doors to establishing bamboo as an alternative building material to concrete and steel…
Looking much beyond the application of bamboo as a straightforward building material or accessory, MIT scientists, along with architects and wood processors from England and Canada, are looking for ways to turn it into a construction material more akin to wood composites, like plywood.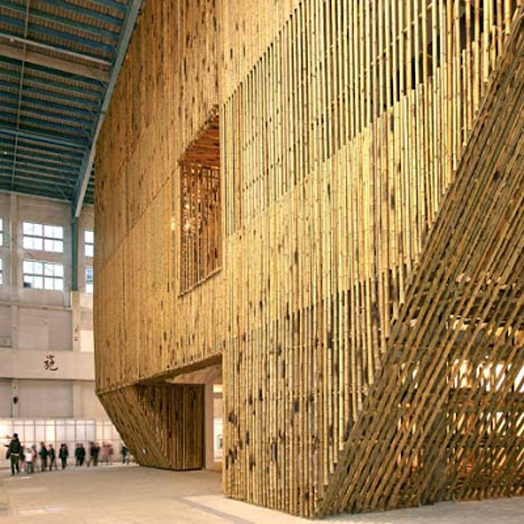 .
The idea is that a stalk, or culm, can be sliced into smaller pieces, which can then be bonded together to form sturdy blocks - much like conventional wood composites. A structural product of this sort could be used to construct more resilient buildings - particularly in places like China, India, and Brazil, where bamboo is abundant.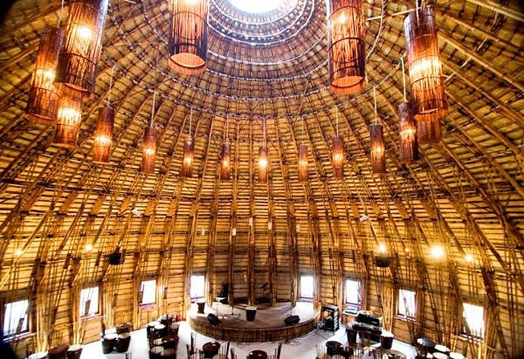 .
Led by Lorna Gibson, the Matoula S. Salapatas Professor of Materials Science and Engineering at MIT, researchers at MIT have used their data to develop a model that predicts the strength of a given section of bamboo. The model may help wood processors determine how to assemble a particular bamboo product.
As it turns out, bamboo is densest near its outer walls. As Gibson explains it, "One section of bamboo may be more suitable for a given product than another; based on its density, we're looking at how we might optimize the selection of bamboo materials in the structure that you make."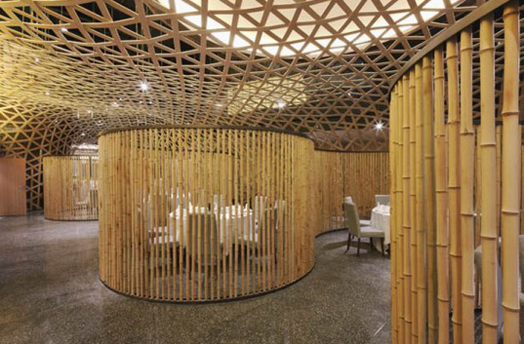 .
"One of the impressive things is how fast bamboo grows," Gibson notes. Researchers have used electron microscopy to obtain images of the bamboo microstructure and create complete, microscale cross-sections of the entire culm wall at different heights along the stalk.
.
The stiffness and density data has then been used to create a model that accurately predicts the mechanical properties of bamboo as a function of position in the stalk. Gibson says wood processors that she works with in Canada may use the model as a guide to assemble durable bamboo blocks of various shapes and sizes.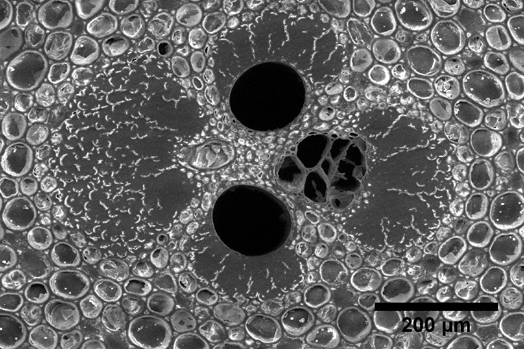 Cross-section as seen under a microscope ©the researchers
Going forward, the processors, in turn, will send the MIT team composite samples of bamboo to characterize. For example, a product may be processed to contain bamboo along with other materials to reduce the density of the product and make it resistant to insects. Such composite materials, Gibson says, will have to be understood at the microscale.
"While bamboo has similarities to wood, as this study shows, the material also has very distinct properties. Although current approaches to developing structural engineered bamboo have tended to focus on mimicking engineered wood products, the future will probably lie in innovating new approaches that can better enhance the natural advantages of this unique material," says Oliver Frith, acting director of programme for the International Network for Bamboo and Rattan, headquartered in Beijing.