Photography: Toshihisa Ishii; courtesy the architect
.
Building a house on a slope without destroying the natural terrain might be a challenge for some but not for Japanese architect Masahiko Sato.
Omura city in Nagasaki now has one such landmark house. Built on a site area of 283.76 sq. m.
with gross floor ratio of only 26.37 per cent, Masahiko has made maximum utilization of space for his client.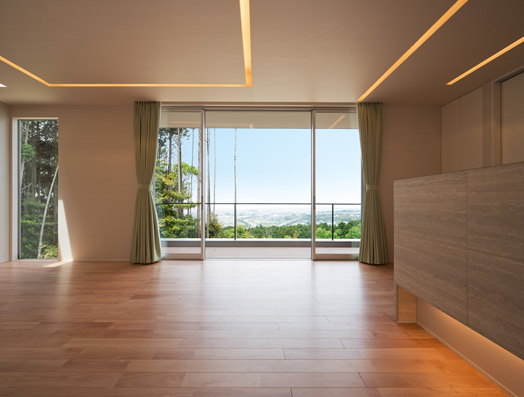 .
The initial brief by client Yamasaki consisted of barely two key points - maximize natural surroundings, and maintain a rich and comfortable lifestyle. As the 'Y7-House' has been built on a hill, in order not to destroy the natural landscape and terrain, one part of the sea-facing house is extended in the air so that it "floats", while the other half is grounded. At the same time, the architect has paid key attention to plantation in the porch and around the entrance.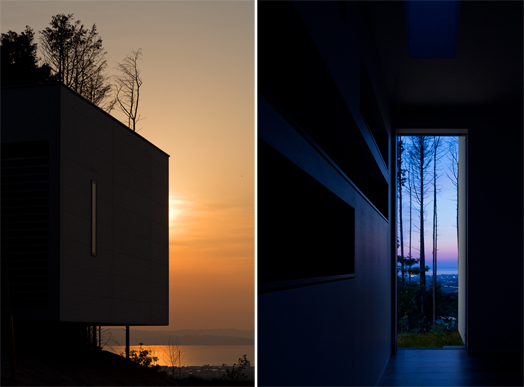 .
The idea was to "keep the house in harmony with the natural environment," says the architect.
The protruded outer wall of the house is painted white, while the retracted part is grey. "This gives it a 3-D impression," he continues.
.
From the outside, it may look like a holiday home but it is, in fact, complete like any other. Besides the master bedroom and a "Japanese-style room", there is a kitchen and a kitchen garden, a parking lot and a guest parking lot, a raised wooden balcony-cum-portico and two separate rooms for washing and drying, besides the usual dining, bathing and living spaces.
Large-size glass windows face the sea, while the side that opens to the road is anointed with a modern architectural framework.
.
The use of wood predominates for interiors and exterior construction, and reinforced concrete provides sturdy support. Wooden flooring, modular cabinets and modern interiors give the house the desired "rich and comfortable" look.
.
The highlight of the house, besides the beautiful sea-facing view of course, is the way Masahiko camouflages the light fittings and air vents below the false ceiling, leaving just about enough space to allow light to brighten the house after sunset. Either ways, whether by day or by night, the house silhouettes picturesquely with the surrounds.