Photography: David Rodríguez y Carlos Huecas; courtesy Masquespacio
.
Blending thoughtful design with innovative functionality, KesSalao, a new eatery in Bonn, adds a fresh appeal to the historic German city's dining scene.
KesSalao is a play of words in two languages - "Kes" in German and "Salao" in Spanish; translated, read as 'cool and amusing boy'. More relevant is the symbol that accompanies it. Since KesSalao serves Mediterranean cuisine, the logo, inspired by olive oil - a basic ingredient in this cuisine - is a drop that interprets the oil's goodness.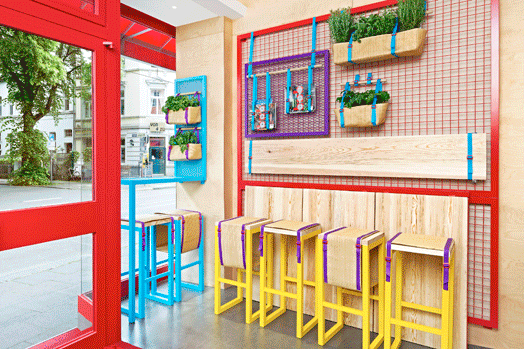 .
Valencia-based Spanish creative consultancy Masquespacio has worked on the brand image and interior design, conceptualizing elements right down to the restaurant's name.
.
A palette of bright colours define a youthful feel. Red comes together with marine blue and yellow - the latter two referencing the Mediterranean Sea. The use of purple has been sought to work in tandem with red to liven up the space.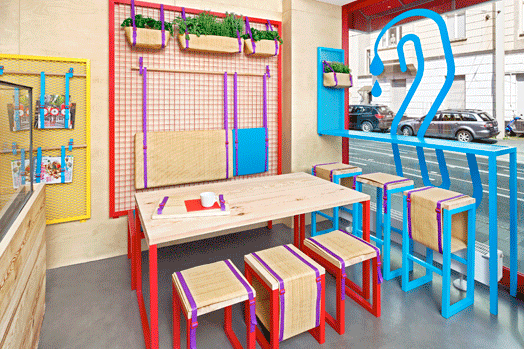 .
Birch veneer on the walls and pinewood furniture enhance a natural appeal. A brown grassy fibre, raffia, spotted on seats and wall-hung planters is yet another reference to the Mediterranean region.
Brightly coloured gratings serve a decorative and functional purpose. Besides storing magazines, menu cards and raffia plant pots, they also act as tables in the storefront.
.
.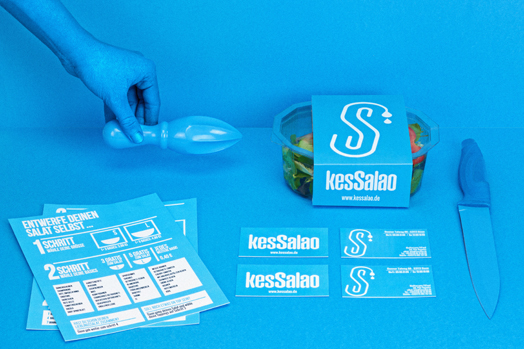 .
At 40 sq m, the eatery isn't very spacious, which is why KesSalao operates as a takeaway at noon and turns into a snack bar by night. Constructive details like folding tables adapt to optimum space utility in tandem with time of day and function. Adding to the thoughtful use of space are bar stools, upholstered with adjustable raffia, to accommodate diners' handbags and jackets.
.
Masquespacio has effectively communicated the brand's true offerings using innovative design and a functional approach.