Info & Images: Courtesy
10 Design
.
After the successful completion of Seventh Heaven at Al Barari, Architecture firm 10 Design are ready with Ashjar - the next phase of the development.
Ashjar is located just 10 minutes from the Burj Khalifa. The development comprises 300 high end 1,2 and 3 bedroom apartments set within 21 individual low rise buildings each carefully woven into a lush forest landscape. Small clusters of these low rise buildings create intimate and private communities that are one with nature. Dense planting, meandering streams, shared amenity and secluded gardens connect communities and allow controlled access to the wider master plan and amenities.
.
The word, Ashjar means "trees" in Arabic. With this development, Al Barari's purports to cultivate "a unique vision of high-end living in harmony with the natural environment," providing lush green environs to its residents.
.
.
Says Gordon Affleck Design Partner at 10 Design, "The idea of "tree living" has given us the inspiration to envisage apartments with three different characters of usual amenity: 'at the forest floor', 'within the tree canopy', and 'above the forest canopy'. With over 80% of the site dedicated to landscape, these apartments will merge seamlessly into their surroundings from day one."
.
Three primary block typologies are proposed creating a rich and diverse community; with expansive landscaped terraces, pools and gardens establishing a strong nature-connect. In the extrovert typology, terraces and shading pergolas are woven to create a rich and vibrant façade self-shading external terraces and living areas. The introvert typology utilizes operable screens to open or close external terrace and living areas opening up to the vista or creating a more quiet secluded internal/external sanctuary. The third - terraced typology or 'double cubes' affords a more exclusive experience for the larger units with entry via a naturally daylight core. Each typology is afforded the same quality of space and daylight together with a high level of finishes.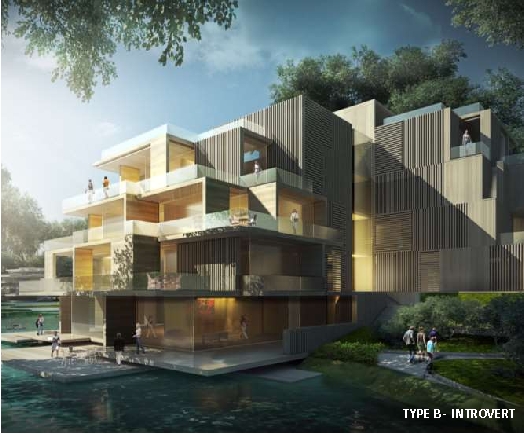 .
Rooftops are maximized with larger terraces and duplex units creating opulent private gardens in the sky. Within the larger terraced typologies apartments are arranged to either side of the core with living spaces opening up to the corner views. Private bedroom suites and terraces, living rooms and kitchen/dining spaces wrap around the core to provide 360 degree views. Smaller boutique garden apartments are located at the ground level interacting with, landscape, water and planting. Larger units are placed at the upper levels stepping back to the exclusive penthouse units with multiple garden terraces.
.
Nothing short of a paradise retreat, the development promotes the idea of living within and amidst the tree canopy and builds upon a naturalistic 'forest floor' that stretches over the 100,000 sqm development, creating a green, serene and tranquil living environment unique to Dubai.