Photography: Courtesy Coop Himmelb(l)au
.
With its common elements: pitch (which governs melody and harmony), rhythm (and its associated concepts tempo, metre, and articulation), dynamics, and the sonic qualities of timbre and texture, Sound Cloud is a symphonic embodiment of music.
It takes sensitivity to comprehend classical notes of music; and those familiar with Estonian musician par excellence, Avro Pärt, will agree that to dedicate a building to the maestro is an act of deep reverence.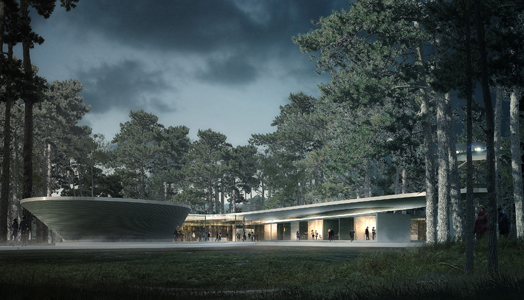 .
The International Arvo Pärt Centre Foundation has recently with architectural firm Coop Himmelb(l)au accomplished a building dedicated to the musician and his repertoire. Located in Laulasmaa, in north-western Estonia, the building called Sound Cloud is a surreal structure constructed amidst dense pine trees, and appears like a floating cloud.
.
Referencing the building to Avro Pärt's music, its shape is derived from the song "Spiegel im Spiegel", consolidating the main sequence spectrogram of the song into the curves of a roof.
The cloud only touches the ground where it is thickened to house the performance space, and otherwise hovers between the trees, like the tree house of the observation platform, suspended in the natural environment of the forest.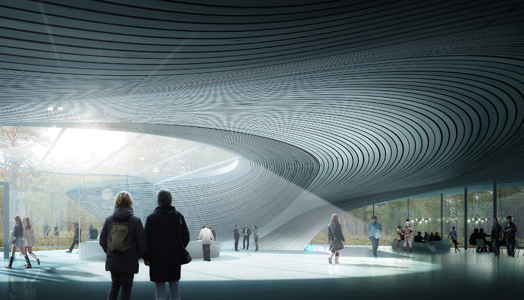 .
.
From within, it forms an introverted space, where music is played and listened to; and the level below constitutes the work and meeting place for people interested in the legacy of the composer.
.
The complex rooms of the program are organized in their functional groups and combined into a box building that is placed underneath the roof. Underneath the roof and in the centre of the overall courtyard shape, the Sound Cloud appears as a poetic space suspended in nature, where the memory of Arvo Pärt can reside.
A simple harmonious structure with a flourish, the structure is a thought-provoking tribute to Avro Pärt, as if brining to life the musician's rhythmically simple harmonies, often single unadorned notes, or triads. It also embodies tranquillity, a peaceable habitat much like his choral works that were frequently used as settings for sacred texts.