Info: Courtesy Autoban & Arcelor Mittal
Photography: Kerem Sanliman; courtesy Autoban
Autoban-designed New Terminal at Heydar Aliyev International Airport in Azerbaijan challenges hitherto 'norm' typology of airports by infusing a warm homely feel that puts 'passenger-first' as its USP…
Home of Azerbaijan Airlines, the national carrier of Baku, the new terminal building, designed and developed by Arup in collaboration with Woods Bagot and Buro Happold, is based on the shape of a triangle with rounded off edges and angles. The fully glazed, tapered façade provides the building with its characteristic aesthetics, and its innovative, organic shape allows for natural light to enter the interiors through the façade and the semi- transparent roof, whose skylights are an integral part of its steel structure.
.
As Baku is located in a seismic zone, a complex structural engineering solution to comply with the seismic forces has been taken care of by Arcelor Mittal designing a frame-resisting system – the aesthetics of which become the focal point of its interior architecture.
.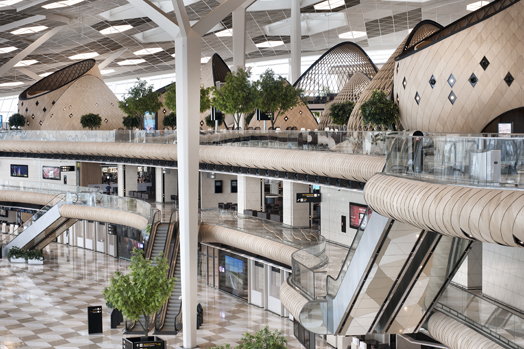 .
Conceived according to the latest innovations in aviation technology and passenger comfort and safety, internationally renowned, Istanbul-based design studio, Autoban applies its 11 years' expertise in the area of hospitality design, to evolve an imaginative, idiosyncratic, and human-centric approach in designing the interiors of the terminal.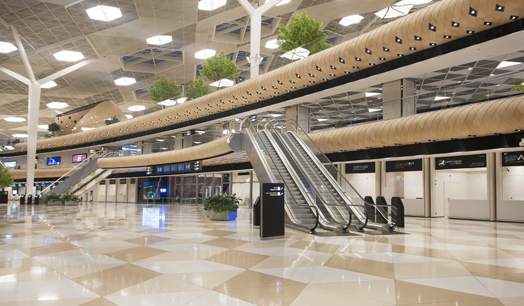 .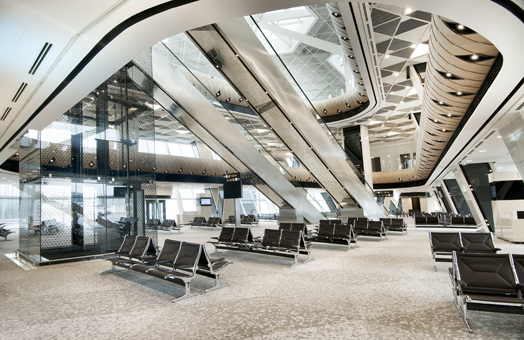 .
The multidisciplinary studio's experimental, genre defying approach, overturns airport conventions of cavernous spaces and impersonal experience by using narrative and unconventional forms to create imaginative spaces that are firmly rooted in cultural, social and geographic narratives, yet offer unexpected and thought-provoking experiences to their inhabitants and visitors.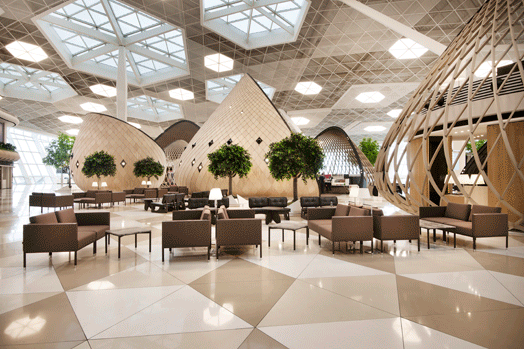 .
Taking inspiration from Azerbaijani hospitality, Autoban's Red Dot award-winning design spans the entirety of the terminal's passenger spaces, and includes striking custom-made wooden 'cocoons' that create a sense of welcome and discovery, and opportunities to either meet or retreat.
Bespoke furnishings and lighting schemes upend airport typologies, opting for tactile natural materials such as wood, stone and textiles, gently and warmly lit. The cocoons – which vary in size and house an array of cafes, kiosks and other amenities – exist at the convergence of architecture and art, creating an inviting, intriguing landscape within the huge transportation hub that challenges expectations of the airport environment – all along catering to the keywords "warm hospitality".
The 65,000 sq. m. terminal expected to ferry six million passengers a year, has only just become fully operational on Sept.1,2014.