Photography: Courtesy Snøhetta
Opening today, the zero-energy-building (ZEB) pilot project in Norway
is conceptualized as a single family house with a garden, which sees a categoric amalgamation of architecture and technology – ensuring optimization of both, comfort and energy use.
Architecture office, Snohetta in association with the research centre on Zero Emission Buildings and the independent research body, SINTEF designs a zero-emission demonstration platform to facilitate learning on ecologically-conscious living.
.
.
The house appears as a tilted black box with its sloping roof, characteristically tilted towards the southeast, clad with solar panels and collectors. Solar energy, together with geothermal energy from energy wells in the ground, will serve the energy needs of the family and generate enough surpluses to power an electric car year-round!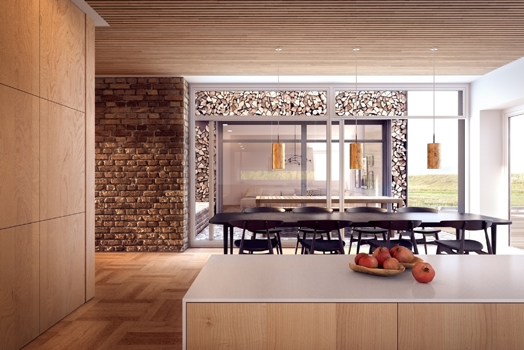 .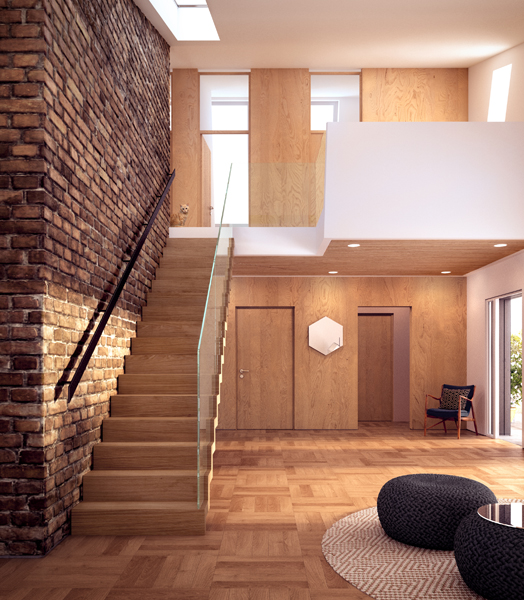 .
Daylight, view, and contact with landscape and outdoor space are reconciled with the need for balancing sealed walls and windows. Heating and cooling is solved passively through placement of glass surfaces, orientation, house geometry and volume, and choosing materials with good thermal characteristics. Materials used on interior surfaces have been chosen on the basis of their ability to contribute to good indoor climate and air quality as well as aesthetic qualities.
A centrally positioned outdoor atrium with fireplace and furnishing bridges the indoor-outdoor equation and different comfort zones, activities (the garden has fruit and vegetable plantations) and ambiences are established to focus equally on both, emotive comfort and sense of wellbeing as well as energy demands. Whilst a rustic touch prevails with stacked timber and exposed brick walls, a plush feel is maintained with the furnishings. The garden is equipped with a swimming pool, shower and sauna.
High environmental ambitions create new parameters in the design process. In particular, the high focus on choice of material in early development phases is new, and generates innovative design processes on a multidisciplinary level. The design of such an ambitious environmental project is driven by knowledge of new technologies, local energy sources, materials and building techniques, and other resources at location, as well as intelligent placement and orientation in a way that facilitates optimal utilization of energy resources.
The project aspires to achieve ZEB-OM classification and will be continuously monitored to document and verify a minimum of 100% CO2 offsetting. Renewable energy production via photovoltaic and solar-thermal panels integrated in the building envelope enables offsetting of carbon emissions generated by the burning of fossil fuels in power stations. By offsetting in this manner, we reduce emission of other greenhouse gasses simultaneously. Focus on carbon emissions associated with building materials represents a new direction in the vital drive toward a sustainable construction industry.