Info & Images:Courtesy the architects
Paradoxes have given birth to many a deep thought and creatives have often exploited this to emerge with yet another actuating philosophy in life. NEXT architects do this with a public art installation in Rotterdam.
The
Möbius

strip

is defined as a
surface

with only one side and only one

boundary component. It has the

mathematical

property of being

non-orientable. Taking their cue from this non-orientable loop, NEXT architects from Amsterdam have designed an art installation atop a hillock in
Carnisselande, a Rotterdam suburb.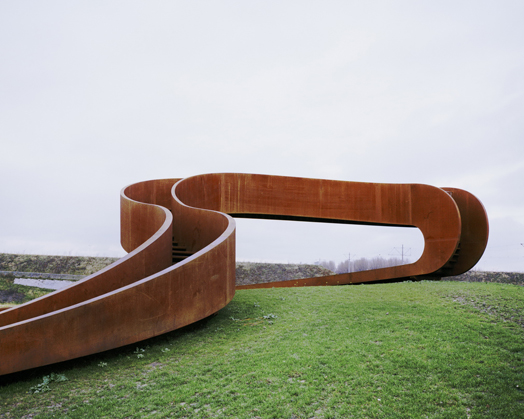 .
Conceived as a giant circular stair, a rusty steel ring is gently draped upon the grass hill and anyone venturing to climb it is rewarded with an unhindered view of the horizon and the nearby skyline of Rotterdam.
The path makes a continuous movement and thereby draws on the context of the heavy infrastructural surrounding of ring road and tram track. While a tram stop presents the end or the start of a journey, the route of the stairway is endless.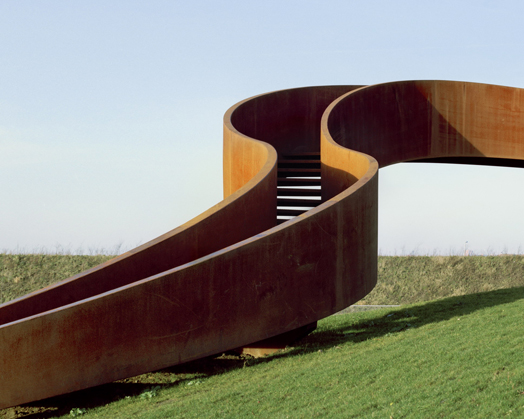 .
.
NEXT architects designed the stair for a local art plan commissioned by the municipality of Barendrecht. Because of its structure, the shape of the object is hard to perceive; every perspective generates a new image with which the design is not only a contextual but also a very literal answer to the given context of the local art plan: an Elastic Perspective.
.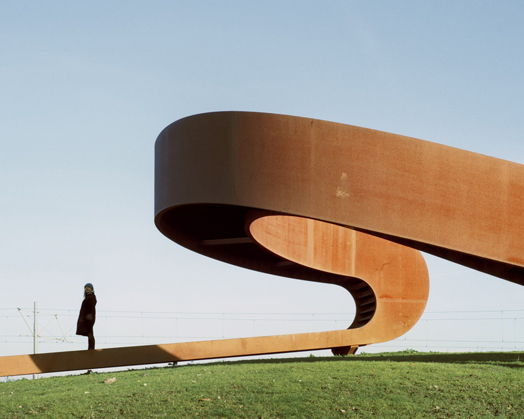 .
Based on the principal of the Möbius strip, the continuous route of the stair is a delusion: "We are intrigued by the Mobius strip, by its characteristic of having only one surface, no top nor bottom. When used as a path, it suggests continuity, but crossing that path is - at least physically - impossibility. It's that kind of ambiguity that we recognized in the inhabitants of this suburb: mentally they still feel very much connected to their mother town Rotterdam, but in daily life, they are definitively disconnected. With the Mobius strip stair, we offer them a glimpse towards the Rotterdam skyline, but to continue their trip, they have to turn backwards, facing the context of their everyday life," explain the architects.
.
Well, we say this metaphoric allusion could be universal; what do you say??