Photography:
Issei Mori/ Mitsuru Narihara; courtesy the architects
.
An experimental cavernous shell made out of paper transforms an office into an easily adaptable space.
Award-winning Japanese firm Kotaro Horiuchi Architecture has created a cave-like space within its Nagoya, Japan office that serves a multi-functional purpose. Known as Paper Cave or Fusionner2.0, this installation is a part of the firm's three-fold series, Fusionner, which seeks to create spaces based on the activities that might take place in each one of them.
.
Installed between the entrance of the office and its back balcony, Paper Cave transforms a section of the office into a cosy three-dimensional cavernous space. This was achieved through the use of malleable glass fibre sheets of paper, hung one beside the other, curving from one side of the room's floor to the other and across the ceiling in a wave-like form.
.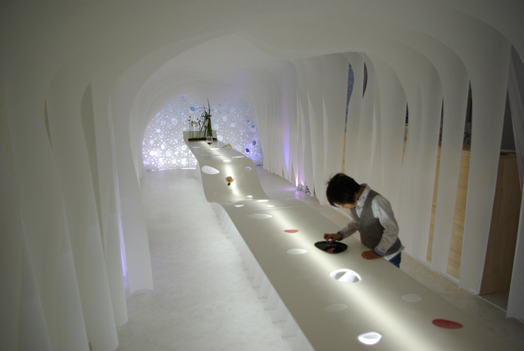 .
The space incorporates a single piece of furniture - an artificial marble table that fluidly traverses varying heights. Perched on barely-there legs, the table almost appears to float across the room. Holes on the smooth, curved table vary in depth and allow for the transmittance of light at five different levels.
The entire cave is wrapped in soft, comforting white light. This was achieved thanks to the slight glow of blue LED lights, coupled with natural light that flows through holes on the façade. All in all, the space exudes an ethereal feel.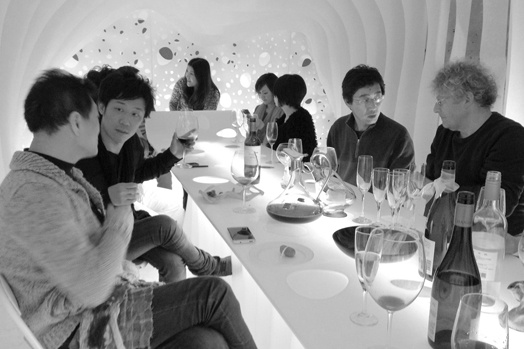 .
While Paper Cave was on display at the adjacent Gallery White Cube, during the month of March, it has now found a permanent place at Kotaro Horiuchi's Nagoya-based office. What was otherwise just another office area has now become a versatile space that constantly evolves to serve different purposes either as a saloon, lounge, meeting space or bar.
Among the many accolades that the experiment is garnering are:
The Golden Prize of DSA Design Award 2014 (Japan); Selected for JCD International Design Award 2014 BEST100 (Japan); and Selected for the SDA Award 2014 (Japan).