By Shaheena Javeri Mistry
Photography: courtesy the architects
Ruetemple architects, Alexander Kudimov and Daria Butahina design a compact world for a brother-sister duo, with transformable and dynamic recreational areas, while the work areas remain anchored.
Designing a 33 sq. m. room for siblings, the architects display their ability to understand and provide a space that nurtures creativity in children by providing them with an environment of openness, eagerness and above all, devoid of pre-conceptions.
The study area here remains fixed, with ample storage and a relaxing seat by the window sill, but the recreational area consists of 3 mobile, versatile cube modules, that can lock into each other as a single unit or be moved around and arranged in various permutations and combinations to form a living room, a cozy chill-out room (room within a room), or a bedroom with one or two beds for the siblings.
This cube-transformer allows children to maximize their play, work and relaxation with numerous transformations, creatively shifting the interior space to form custom configurations in an

otherwise conventionally fixed-in-place design element.
The bi-level design optimizes the use of space, adds character and designates different areas for different activities. Like, the cozy corner with a soft mattress provides rest and relaxation with a quiet and calm atmosphere, promotes reading and de-stressing, while the grid storage rack provides enough room to store books and playthings.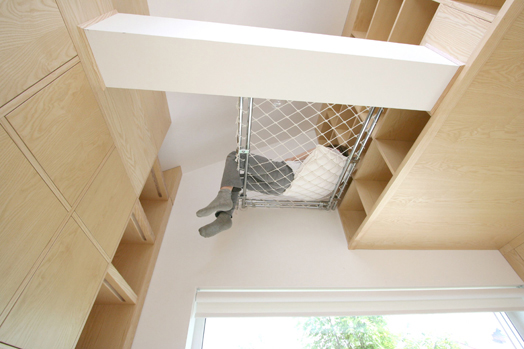 .
.
Also, structural elements like the beams have been used artistically to house hammocks, with skylights brightening up the space. The act of peering down from the hammock or looking up at the sky along with the freedom of rearranging one's furniture facilitates the element of intrigue, so natural with childhood.
Working with a neural palette, as with their other interior projects, the architects' choice of light materials and colours accompanied by soft lighting makes this room gender friendly, and keeps the space simple and functional, yet interesting and inspiring.