Photography: Daisuke Shima/ Nacasa& Partners; courtesy the architects
Conceptualized and designed by architect and designer, Emmanuelle Moureaux, the Shinjuen Nursing Home in Kawagoe-City, near Tokyo, has been turned into a warm and friendly centre that not only welcomes the ailing into a positive ambience, but also nurtures feelings of joy and well being.
S
ometimes, a simple thought can go a long way in defining an ambience and a function. At the designated facility providing nursing care services for the elderly, together with day service and home care service, in view of supporting an enriching lifestyle for the community, recently had its lounge and cafeteria renovated.
.
Taking a cue from its location amidst lush green surroundings, the architect has worked on a metaphoric concept,where she uses a simple 'happy' concept of dancing bubbles to infuse the otherwise functionally austere space with vibrancy and warmth.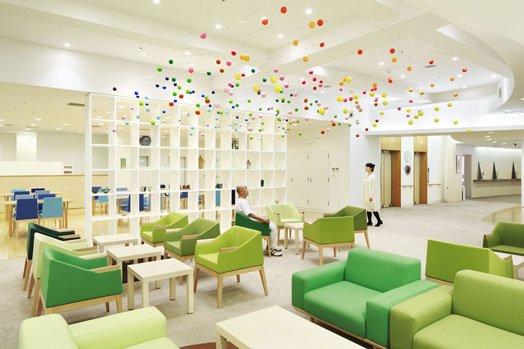 .
She suspends colourful bubbles from the ceiling in the lounge area– shades of green to represent lush nature: green grass and soap bubbles floating in the park on a sunny day; blue to represent the sky; almost instantaneously catching the eye of visitors and emotionally transporting them onto a different level.
.
Conceived as mobiles, totaling to 45 mobiles, 225 spheres in 15 colours create a melange of gentle circular motion in the air above a cacophony of green deep padded
seating clusters in the lounge.
The lounge connects to the cafeteria, weaving workshop, and other spaces, providing uninterrupted views of this ceiling art installation through the floor-to-ceiling white box shelves, that hold handcrafted weaves and pottery art made by the facility users and doubles up as a room divider.
The inherent theory behind the coloured baubles is based on the psychology of colour therapy and succeeds at accomplishing its purpose, as you notice the cheerful camaraderie despite the bleak functional aspect of the nursing home.