By Zoya
Photography: Courtesy a21studio
The Tent is a small spa designed by a21studio and perched above a hot spring and mineral resort hill in Vietnam.
The spa is partially enclosed within gabled walls, providing clients a beautiful view of the natural waters and the city below. While the low-h

anging

r

oof

allows privacy, the partially enclosed structure keeps clients dry and cool in Vietnam's tropical climate.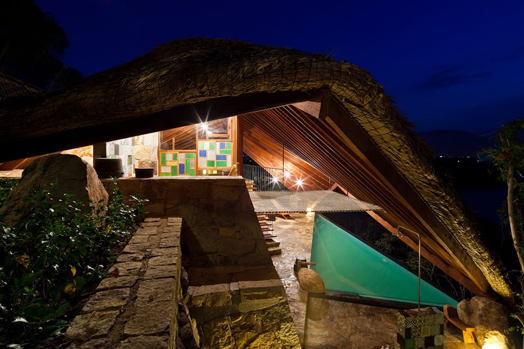 .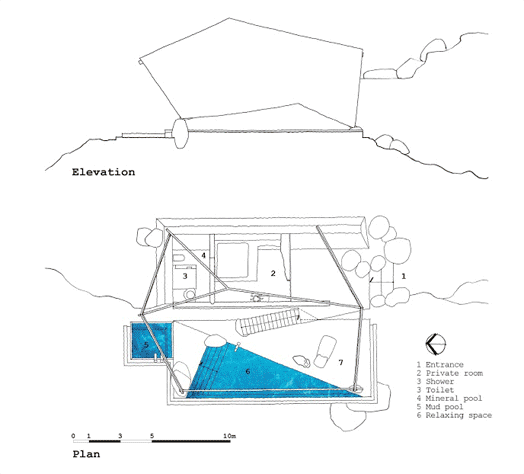 .
The climate was, in fact, one of the major constraints faced by architects at a21studio. The Tent site is subjected to intense heat from the West throughout the year - one of the reasons that the 126 sq. m. site had been left untouched for several years. To overcome this obstacle, the architects visualized the roof as a heat barrier. They first ensured the spa was partially covered with a steep roof with thick thatch, which blocked direct sunlight, angled off rain and blended with the natural surrounding - and then designed a slope side on the West to trap the heat outside the structure.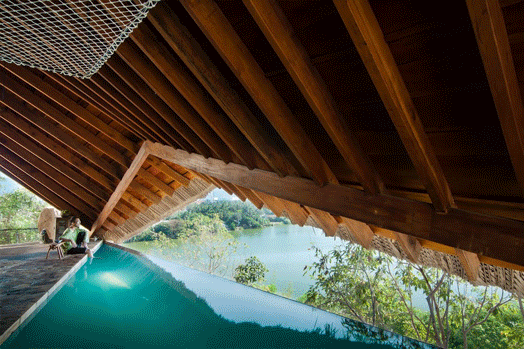 .
Multiple beams help the structure span across 11 m and elevate 2.3m - again allowing the guests to enjoy a good view of the natural landscape. The wooden beams and panels are covered with a waterproof layer of 30mm coconut leaves, which further shelter the structure within the forested area and gives the three-layered wood panel roof an aesthetic look.
.
Besides basic construction material, local materials such as coconut leaves, dry-stacked stones, pieces of rocks, reinforced steel, a variety of tiles and multi-coloured textured glass are adopted to add "harmonic, organic and native feeling".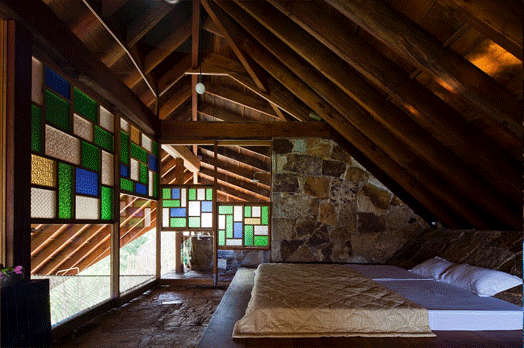 .
Inside the Tent, clients can enjoy a two-level experience. The upper floor is a private bedroom covered by antique wood frames and coloured glass. The bedroom is attached to a small dining area on the rocks and a net, installed in the middle of the void, adds an exotic appeal to the floor and a feeling of being suspended mid-air.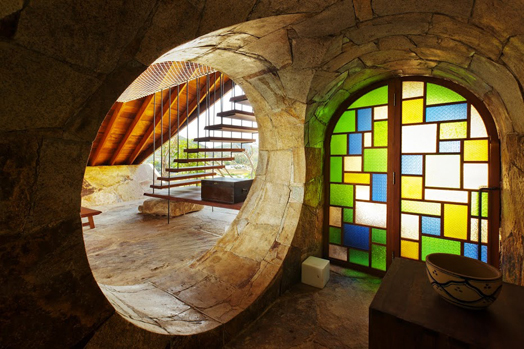 .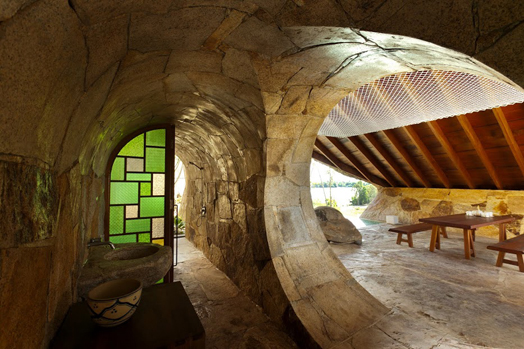 .
On the floor below, an infinite mineral pool flanked by old wooden furniture gives the place a 'relaxing' appeal. A flight of stairs carved out of rock connects the two floors.
The Tent is a skilful piece of architecture that harmoniously blends the spa resort's creative roof structure with its natural surroundings.