As the buzz of the London Design Festival that has just concluded last night, continues in hushed
wow's,
Team IAnD chews on the thought of the colossal participation, burgeoning by the years...
"All things design" is the quintessential mantra at the London Design Festival year after year. Walks and talks, thought-provoking seminars, daily demonstrations, workshops, retail thematics, material libraries, collections highlighting design and innovation, installations that question the status quo, egging you on to think… react…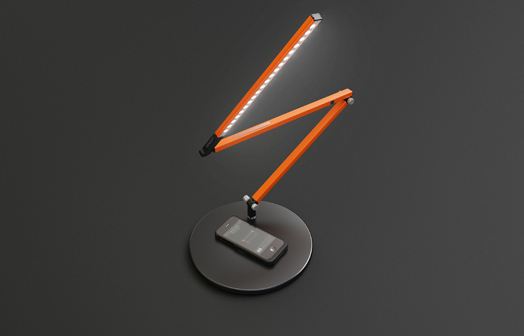 Wireless charging solutions
As with every year, the festival in this, its twelfth year presented architect/ designer – layman collaborative events and interactions with about 330,000 visitors from around the world. New product and label launches are a done thing here. This year, the festival has attracted participation from 20 countries and is committed to delivering five new international partnerships through each event year.
Tiipoi, perhaps the only Indian brand that launched at the Designjunction venue, presented a discreet collection of tableware that reminds you of your great grandmother's copper and brass kitchenware. What goes around-comes around!
.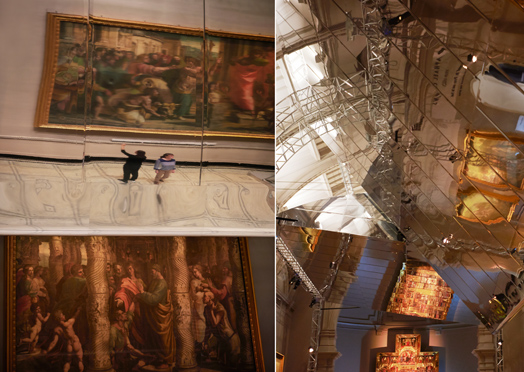 Multi-disciplinary designers Edward Barber & Jay Osgerby have devised an immersive,


kinetic sculpture 'Double Space' that gives the viewer a whole new perspective
Candela – an immersive installation from product designer Felix de Pass,
graphic designer Michael Montgomery and ceramicist Ian McIntyre
Our team, who conducted a macro survey based on interactions with a multitude of designers, manufacturers, show hosts, retailers and attendees, above all, came away impressed by the sheer design buzz that the festival generates. From the chock-o-block calendar of attendances, the ones we cannot resist mentioning are: the metaphoric play with glass cylinders aptly titled 'Human Nature' at the V&A; the interactive contemporary interior exhibition with a material twist at the Craft Central; the rather intriguing; at times quirky, architect-retailer collaborations on Regent Street; and of course, lens-man Dan Tobin Smith's immersive floor installation of mammoth material waste that veers the pendulum between beauty and functionality. Actually, there are several more...
'A Place Called Home' Landmark project at Trafalgar Square
brings together four highly
acclaimed
designers -
Jasper Morrison, Patternity, Raw Edges and Studioilse to present a personal
vision of a home.
Well, moving on and delving into the ethos of 'being there and doing that', we questioned the reasons for participation and the obvious and not-so-obvious 'take home' that the week-long (at certain venues, just four days) inclusiveness the festival brought them. The answers – the temperament was unanimous - "we are in the thick of design here".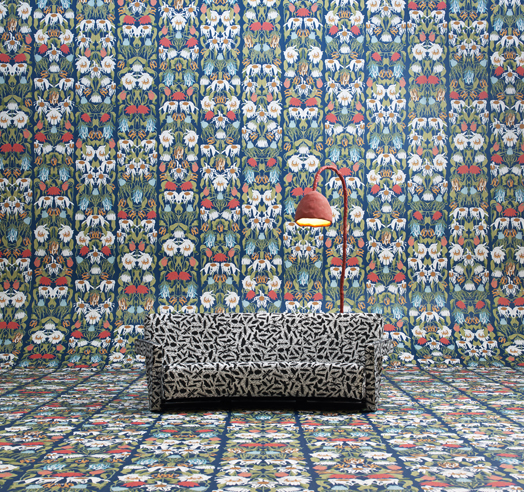 Wallpaper by StudioJob at 100% Design
Michael Anastassiades in collaboration with Flos presents lighting installation 'Ama', made by
mouth-blown opaline spheres and brass. The piece is an appreciation of the pearl diving mermaids of Japan.
Besides creating inspirational showcase features and fostering an intellectual exchange of ideas, this wide-angled exposure at the international platform sees the participating designers and design companies gaining a direct (first-hand) overview of related markets. Responses oft repeated and valued were the "chance to directly interact with my potential client" and "gauge customer preferences to streamline my product range". The more generic ones said they wanted to reach out to a wider audience that is the hallmark of such design festivals, world over.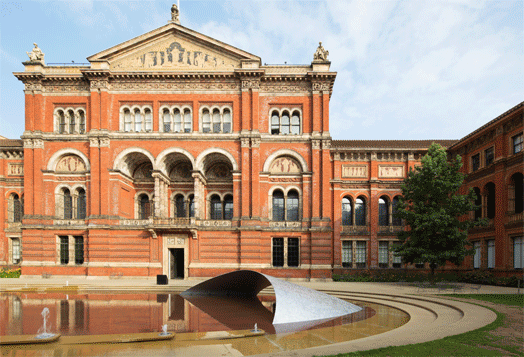 Crest designed by Zaha hadid Architects provides an engaging feature
across the pool I the centre of V & A's John Madejski Garden
Industry experts and global research data indicates that design festivals have a larger percentage of 'lookers' than 'buyers'. Yet, a widespread immersive buzz like the LDF helps its exhibitors with the expressive purpose of growing their customer lists, learning ways to improve operations, forging new ties and establishing partnerships, and getting a firm foothold as industry thought leaders.
Putting numbers in place, directly from the Mayor's office - LDF 2014 is estimated to have delivered over £26m in sales as a result of the festival, for over 1,200 design based businesses. As the Mayor of London elucidates, "In bringing together top design talent from across the world, the London Design Festival provides a snapshot of where we are now, but also importantly, it offers an insight into where we are going."
But of course, the success quotient of a design festival is always underlined by 'the right strategy'; and in here lies the individualistic approach, tailored to one's needs, one's brand.