Info & Images: Courtesy v2com newswire
.
Lighting experts LumiGroup create bespoke ambience for Artopex flagship, combating
the almost total absence of natural light…
Artopex, one of the biggest office furniture manufacturers in Quebec has very recently unveiled its new showroom in the heart of Old Montreal. In collaboration with Lemay, the multidisciplinary firm responsible for the interior design, LumiGroup created the lighting of this space, located in the basement of the former Royal Bank of Canada meeting a formidable lighting challenge - the almost total absence of natural light.
.
.
The objective was to create various lighting moods, while highlighting subtle tailored intensity variations and contrasts, rather than general diffuse lighting commonly used in showrooms. The result: showcased products benefit from a high source of light, while adjacent spaces are treated with softer lighting.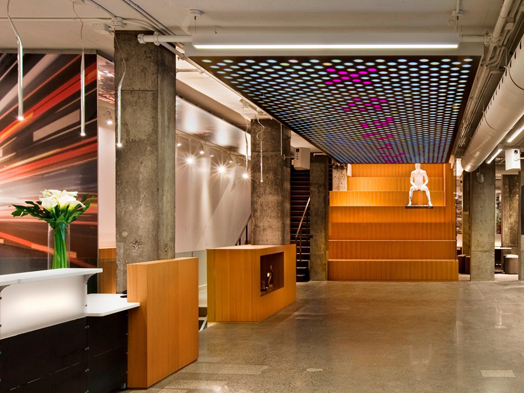 .
A continuous ribbon, showing images of Quebec's territory, guides one through each different section of the showroom, illustrating the story and history of Artopex. LumiGroup, supports this narrative and graphic frame by opting for fluorescent lighting of asymmetrical type using linear devices arranged on the ceiling, and bathing the walls in light from top to bottom. The brightness of the wall lighting thus makes up for the lack of windows.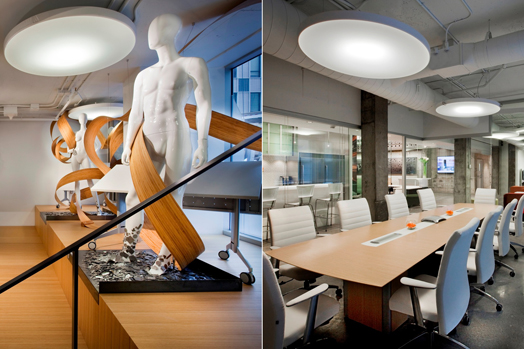 .
The sample room and the adjacent conference room are equipped with Petal pendant lights from Luce Plan, designed by the French architect Odile Decq. These large white fabric-coated rings soften the glass and concrete space with their acoustic properties. The stone foundations of the original building have been stripped and further enhanced with a system of LED lighting, camouflaged on the ceiling for a theatrical and dramatic effect.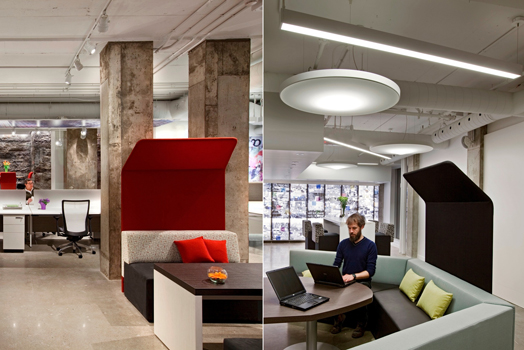 .
Lemay's staging and LumiGroup's lighting have together created a beautiful refined effect, consisting of play of shadows and lights and contrasting atmospheres, striking an arresting display of light fittings without one really realizing that the store is actually devoid of any natural light.