Photography: Courtesy a21studio
Need a home? Have limited resources? Here's Vietnam's architectural practice a21studio's solution to a warm and enjoyable home in the lap of nature…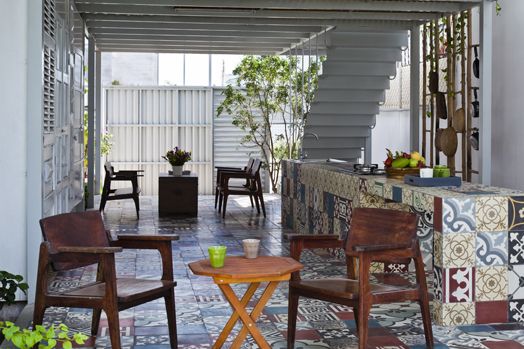 .
Affordability has various connotations; architectural styles are aplenty; construction materials vary; above all, perceptions of home are subjective. When a middle-aged architectural journo approached a21studio to design his home on the outskirts of Vietnam's
Hochiminh
city, in a relatively new urban area with its skyline strewn with a variety of architectural housing styles, he was clear that he wanted comfort above all else, besides being in sync with his neighbourhood.
.
In tune with the architect's sensibilities of going green, and with the constraints in expenditure, they decided to opt for a quicker steel construction instead of brick and mortar. A steel framework consisting of 90 x 90 steel columns and 30 x 30 steel beams connected to metal sheets defines the light-weight structure. The gaps between the metal framework are filled with plants, lending the home the appearance of a green box.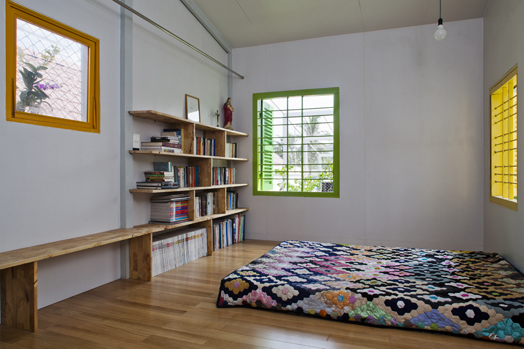 .
Spatially categorised into ground plus one, the kitchen and living room occupy the ground and the more private areas – the bedrooms are above. In an attempt to be one with nature, the lower floor is sans any walls, so the living and community feeling is intensified with the surrounding trees acting as screens and facilitating the full impact of living amidst nature – intentionally uncontrolled.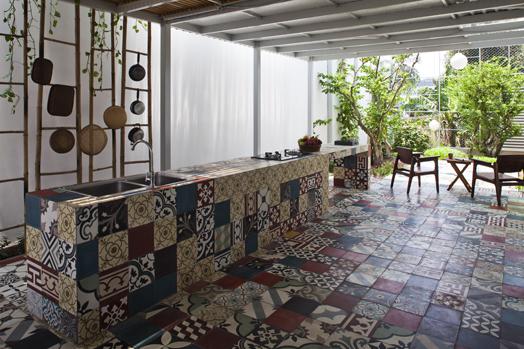 .
Discarded unused furniture in mint condition has been procured to save on funds and add the timeless serenity of old items that comes with age. Colourful doors and windows add a quaint touch to the metal nest; while an assortment of hand-made, colourful, variously patterned tiles constitute the grand finale!