Photography: Courtesy
Ball-
Nogues Studio
Ball-Nogues Studio designs two public art installations – Air Garden and Stud Wall - that are as simple in their message as they are complex in their compositions…
Art ushers in a new dimension – to
thought
and
consequent
action. Its ephimeral quality adds an insight, which if interpreted correctly, can effect valuable transformations. Known for
operating in a territory between architecture, art, and industrial design, Benjamin Ball and Gaston Nogues' work is always informed by the exploration of craft; the aim being to create environments that enhance sensation, generate spectacle and invite physical engagement.
In the Air Garden at the Los Angeles airport, there is no
distinct beginning or end; inside or outside; back or front. It is both an object and an atmosphere. Its appearance is not static as it is predicated on changing quality of light in the north light well at any hour of the day. It is a serene moment – a pause - amidst the hectic action and movement within the airport.
Air Garden
© Joshua White
Composed of gestural volumes of colour hovering within an immense array of catenaries, these voluminous brush strokes on a translucent three-dimensional canvas dissolve into washes of colour; then snap back into clear strokes with one
'
s changing perspective. The reflective qualities of the bead chain, that forms the catenaries, creates a sense of vastness through the play of light in space. Each one is a miniature convex mirror, capturing light from all corners of the space as well as from the adjacent balls. The project evokes a sense of immensity through this reflective dance of colour and light.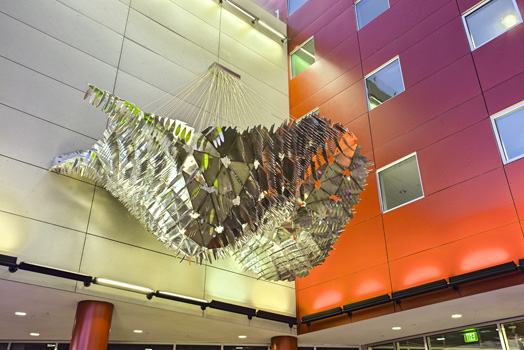 Stud Wall
© Ball-Noques
The other installation – the
Stud Wall anoints the
new courtyard of Huxley Apartments, adjacent to the sidewalk on la Brea Avenue – a prominent north-south thoroughfare in Los Angeles. Taking a cue from their previous
work entitled Cradle in Santa Monica and leather biker jackets that owners generally customize with assortments of studs, spikes and other ornaments, Ball Nogues created a layer of studs as if superimposed over a jacket-like substrate – a crumpled surface of the installation, imbuing a unique geometry over that of the ¼" stainless steel plates into which they are inserted. The studs also serve a structural purpose – by providing extra weight to the structure.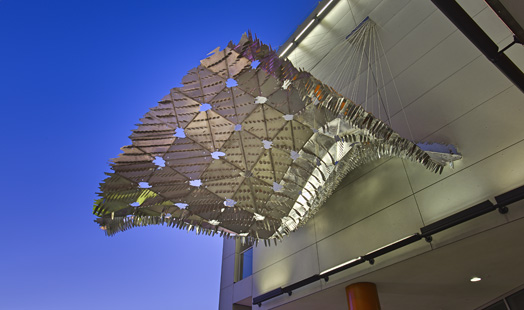 Stud Wall
© Ball-Noques
"Contemporary design abhors weight. It is customary for designers to view lightness as an ideal quality. That this project was a kind of hovering surface, subject to uplift caused by wind loads, demanded that it be as heavy as possible. So, we added the studs to increase its weight to nearly 4000 pounds," explain Ball-Nogues.
Both installations may be perceived as episodes forming an inconclusive riddle without a definitive resolution; but the fact remains that both installations participate on a deeper, more thoughtful platform, inherently linked to the trajectory of one
'
s journey through life.
Materials: Stainless Steel ball chain, enamel paint, cable, custom hardware
Total Weight: Approximately 6000 lbs.
Total Length of Chain: Approximately 450,000 linear feet
Stud Wall
Materials: Stainless Steel, cable, custom hardware
Total Weight: Approximately 3600 lbs.
Total Number of Catenaries: 7092
Total Number of Chain Segments: 107,766
Colours: Cyan, Magenta, Yellow and Clear