Photography:
Norbert Miguletz
Fotografie; courtesy LichtKunstLicht
.
In the awake of its most recent accolade for the best lighting design in 2014, IAnD revisits the Städel Gallery in Frankfurt to study and appreciate its creative use of daylight and artificial light combined.
Meeting the exacting demands of a highly apropos lighting concept for the subterranean extension to the Städel Museum in Frankfurt, lighting consultants Zumtobel have realised a custom-made lighting solution together with architects schneider+schumacher and lighting designers from LichtKunstLicht.
.
The extensive 3000 sq. m exhibition space of the Städel Museum underneath the Städel Garden is beautifully lit up with 195 circular skylights perforating the pre-stressed, slightly vaulted ceiling of the underground hall – an ingenious solution that links the space's daylight intake to a versatile controllable LED illumination.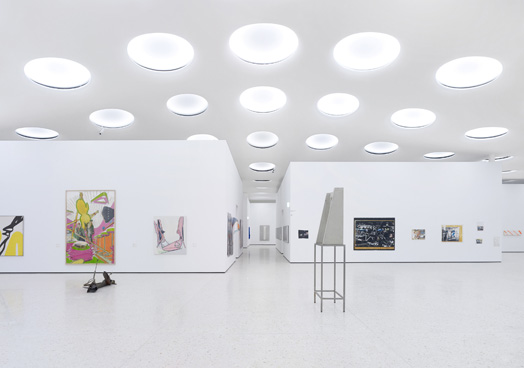 .
Each of the skylight openings has high-tech features. It fulfils a double function as daylight aperture and luminaire.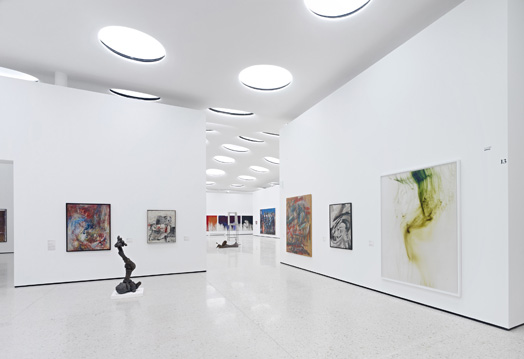 .
A multi-layered screen system allows well-balanced quantities of daylight into the exhibition space or allows for a complete blackout, if desired. Essentially, every daylight opening is individually controllable. In order to keep the system operation user-friendly, groups can be defined that can be controlled consistently.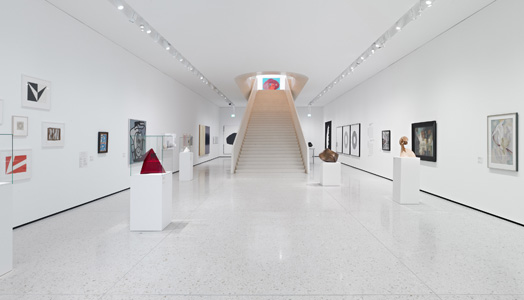 .
.
Simultaneously, LED strips circumscribing the skylights, create artificial light tailored to suit the gallery's needs. Self-sufficient or intelligently interlinked, manually or automatically accessed, these two components can be addressed through a lighting control system. In the event that the column-free gallery space is segmented by partition walls, respective skylights can be allocated to their corresponding volume, facilitating a highly selective adjustment, where luminance levels can be tuned individually for each skylight group; light colour can be varied, and a system of diffusing membranes can provide for homogenous light emission. Additional bespoke LED projectors with optical accessories can help accentuate individual works of art; to the extent that
highly sensitive exhibits such as works on paper, for instance, can be displayed directly alongside another space with lighting for sculptures.
.
Acknowledging that the invaluable quality of daylight lies in its excellent colour rendition, especially in the presentation of works of art, and the mindset that people tend to be more comfortable in interior spaces if there is a certain diaphaneity towards the exterior, the lighting concept envisions not disrupting the desired and didactically essential connection between exterior and interior. While the multi-screen system controls excessive daylight filtering on to the exhibits, additional
built-in light sensors alert the operator to control system anomalies, e.g. foliage obstructing a skylight. This ensures ideal lighting conditions at all times and makes sure that visitors enjoy the art on show to the fullest possible extent.
The excellent lighting qualities in the Städel's extension building and the technical sophistication of the lighting concept have earned the project multiple awards.