Photography: Courtesy Bureau Architecture Méditerranée
Integrating into its surroundings by respecting the urban fabric and existing historic monuments, Bureau Architecture Méditerranée design the Marseille Grand Mosque as a monument of cultural tolerance and social cohesion.
Mediterranean architecture has certain distinctive characteristics: patio, ornamental pool, garden, portico, terraces and the mouchrabieh – "
the openwork screens used in Mediterranean Islamic architecture to cover windows and balconies." This project
incorporates these characteristic elements and
establishes a strong identity
with the prayer hall and minaret recessed from the street.
.
The mosque constructed out of the same stone as the rest of its neighbourhood, has two distinct entities: The podium, which follows the contours of the site and provides the base for the other elements; besides defining relationships with the city and the adjoining urban environment; and the elevated portions that express the building's religious character.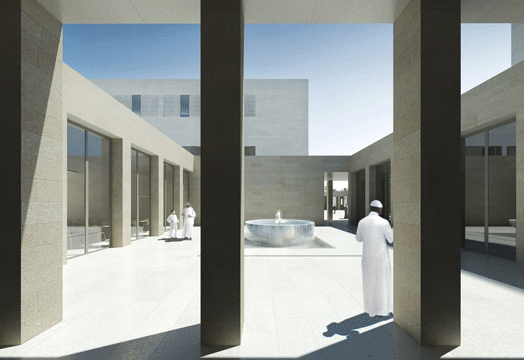 .
The design of a mosque differs from that of a Roman Catholic cathedral in its relationship with public space. While a cathedral has a parvis with a monumental relationship to the building; with a mosque, monumentality is never frontal. Consequently, one finds the patio here - which is also historically a characteristic element of mosque architecture - that creates a transition and breathing room between the city and the prayer hall.
.
An arcade connects the two main entrances on the ground floor and provides access to different parts of the complex (restaurant and tea room, library, bookstore, administrative offices, Koran school). The interior of the mosque is open to the public, a district that can be crossed, where one can stop for tea, buy a book or simply watch the world go by. Upstairs, the terrace extends the library into the open air and provides a panoramic view of the Marseille skyline and harbour.
.
.
.
In terms of the profile, the architects emphasize on proportions, seeking a harmonious relationship between the stone minaret (which is topped with a glass volume) and the prayer hall, balancing masses and voids to ensure ample natural light into spaces like the prayer hall; while encouraging a play of chiaroscuro elements through lateral indirect light that makes the cupola appear to float in space. This combined with thermal regulation contributes to environmental quality that is integrated as a core concern at every stage.
A subtle yet significant detail that has been looked into is a light that signals the 'call to prayer' or adhan; instead of a loud announcement that could disturb the neighbourhood.
The structure as a whole symbolizes the passage from the material to the immaterial.