Info & Images: Grinshaw Architects
New York City's newest transit hub, the Fulton Centre sports a dynamic environment that proposes to streamline connectivity and enhance user experience for 300,000 daily transit passengers...
Designed by Grimshaw Architects in collaboration with prime design consultant Arup, this major transit project amidst the surging redevelopment of Lower Manhattan connects eleven NYC Transit subway lines and eases access to PATH trains serving New Jersey.
©

Leimbach
With "Grand Central Station" as a point of reference, the architects have created a dynamic, dramatic, light-filled civic space incorporating the historic Corbin Building, and representing a "microcosm of Lower Manhattan's evolution - one that reflects both the legacy and the revitalization of the district" says Grimshaw Project Partner, Vincent Chang.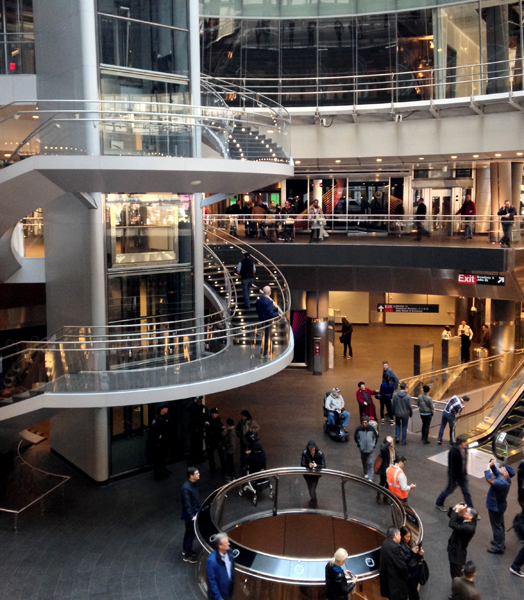 ©Leimbach
The Fulton Centre is organized around a large-scale atrium contained within an elegant, transparent façade. Tapered steel columns draw inspiration from the historic neighbourhood's cast-iron buildings and complement the integration and restoration of the adjacent Corbin Building. The open design provides unimpeded customer movement and sight lines across a level ground plane extending from the major thoroughfares of Broadway and Fulton Street.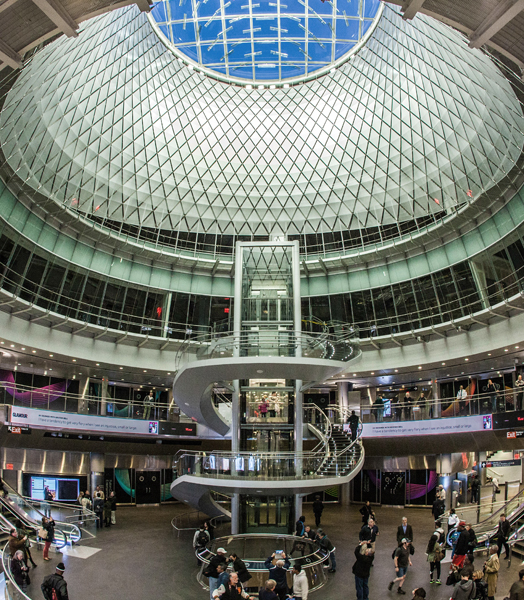 ©Anthony Quintano
Carefully aligned entrances and exits allow the streetscape to permeate the building, defining clear and efficient pathways to all trains. Once beyond fare control and underground, passengers will encounter brighter, widened passageways with clear signage connecting the complex array of platforms.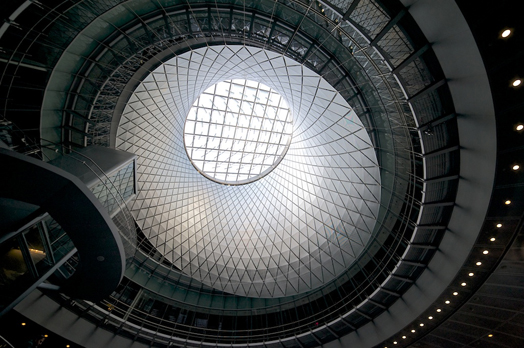 The transit hub's atrium ascends to 120 feet and is topped by a conical dome centred on the concourse below. The dome is truncated by an angled glass oculus oriented to the southern sky. The central architectural concept of redirecting natural light deep into the transit environment - in an effort to humanize the space and orient passengers - culminates in the design of the dome's interior and a new integrated artwork. Sky Reflector-Net (2013) is the work of an engineer, architect and artist; a collaboration with Arup, Grimshaw and James Carpenter Design Associates, commissioned by the MTA Arts for Transit and Urban Design and MTA Capital Construction Company. Held aloft below the oculus, the artwork paints an ever-changing image of the sky across the atrium interior.